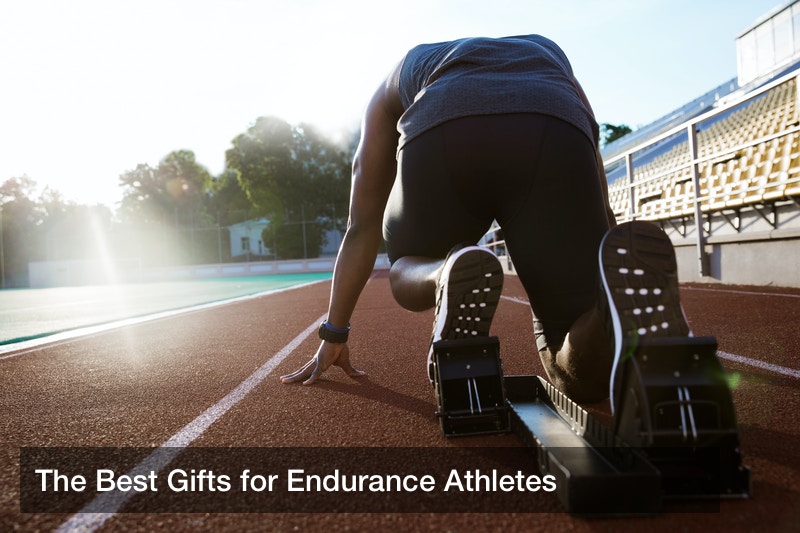 On average, for adults to stay healthy they need to do 150 minutes, or 2.5 hours, of physical activity. However, some adults advance far past the 2.5-hour mark, and getting them the perfect gift for a holiday, birthday, or another special occasion can be hard. This list is here to help you find the perfect gifts for endurance athletes in your life — the people who would rather go for a five-mile run or 20-mile bike ride than chill out and binge Netflix shows.
Smart Jewelry
If you were thinking about buying jewelry as a gift for endurance athletes, you should make sure that you're giving them something that they can use every single day. If the athlete you're buying for focuses more on distance sports, like biking or running, look into buying them a Garmin watch. These watches are designed mainly for runners, but over time the watches have been improved to work for other sports as well. They have built-in GPS trackers to track your athlete's path, and they also connect to their phone. They can then view any workouts they do in the corresponding app.
If your athlete likes to vary their workouts, from hiking to swimming to lifting, look into an Apple Watch. The newer models of the watch have a waterproof mode, so you can wear it to track swims as well as the more traditional forms of exercise. You can look for used watches at pawn shops or online if your athlete doesn't really need all the features of the newer model or if you're shopping on a budget.
If getting smartwatches as gifts for endurance athletes are a little bit out of the price range you're looking to spend, consider getting them an Enso ring. The Enso ring is a silicone ring designed to withstand the wear and tear of daily workouts. If the athlete you're buying for is married, this is a great gift — they can feel like they're wearing their wedding band without worrying about damaging or losing it during their workout. The ring is under $30, making it a great gift if you're on a budget.
New Workout Space
If you're looking for gifts for endurance athletes that can be used at home, you can always go the home renovation route and give them a new workout space. This gift works best if you live with the athlete you're giving this gift to since you do have to do some construction.
If you want to gift your athlete a new home gym, you should make sure to start by contacting a flooring service and getting floors installed that are best suited for working out. Depending on your budget, you can get them different pieces of equipment. You could start with a bench, sets of dumbbells, and an adjustable barbell and have a home gym that's pretty versatile. If you have it in your budget, include a smith machine and cardio equipment that's specific to their sport. If they're a runner look into a nice treadmill or elliptical, if they're a cyclist look into exercise bikes with adjustable resistance levels to simulate outdoor conditions, and if they're a swimmer look into a rowing machine. However big or small you go with a home gym, it's going to be a great option for gifts for endurance athletes that the recipient is sure to use.
If you have a bigger budget, you can also look into new swimming pool construction. Obviously, a swimming pool is a large time and monetary commitment, but no matter what endurance sport your athlete participates in, there is a swimming pool design that will be best to help them train. Swimming is a great form of cross-training, so an endurance athlete from any sport can benefit from it.
5 Star Treatment
Many amateur endurance athletes will participate in competitive events for fun, whether it's a runner or cyclist participating in a race, or a full-on triathlon or Iron Man challenge. Gifts for endurance athletes that make them feel like they're a pro will give them an experience that they will never forget. If you're looking to surprise and delight the athlete in your life, here are a few ideas to make them feel like a star for their next event:
Upgrade Their Flight. Imagine this: your endurance runner is on their way to or from running a marathon and when they check into their flight they find out that they have been upgraded to a seat with some extra legroom or even a first-class seat. Not only will they have a much more enjoyable flight, but they may also avoid injury due to their muscles being balled up. If you have a way to view their flight information, this is a great way to make sure they are able to feel like a pro for their race or event.
Get Them a Limo From the Airport. For your endurance athlete's next competitive event that they have to fly for, get them a fancy form of airport transportation as a surprise. Not only will they feel like a VIP in a limo or SUV, but they will also be able to relax on their way to the hotel instead of stressing over an Uber, Lyft, Taxi, or Rental Car.
Make Custom Shirts to Cheer Them On. Take a page out of the book of Molly Seidel's family's book — for the 2020 Olympic marathon trials, they made themselves matching shirts that read "Team Seidel." After the race, she even sported one as well. Order yourself some custom t-shirt printing supplies to make shirts to support them at their next event. Look on Pinterest for some great ideas for custom cheering shirts. Everyone will be supporting their athletes with signs, but you can put in an extra bit of effort that your athlete will surely appreciate.
The Best Recovery Tools
One of the more important parts of staying healthy as an endurance athlete is properly recovering after hard activities. When it comes to gifts for endurance athletes that they are sure to use, anything that will assist them with recovery is a surefire way to make them happy and keep them healthy.
One great recovery tool for any endurance athlete is an ice bath. You can look into designated ice baths or create your own DIY version out of a large tub, like one intended for farm animal feed. If you want to really add an extra level to your gift, you can set up bagged ice delivery for your endurance athlete so that they can make their ice bath as quickly and efficiently as possible.
Another option when it comes to gifts for endurance athletes is to gift them some sort of body treatment. For example, you could give them a gift certificate to a nearby massage parlor or spa so that they can get their muscles massaged to help their recovery process. Gift cards to places that provide acupuncture or other forms of muscular recovery can be good gifts for endurance athletes as well. If your endurance athlete does not live near a place that offers massages or acupuncture, you could also buy them a massage gun, which is a tool that will massage their muscles without having to pay the price of an in-person massage every time they want to loosen up.
Help Them Try Something New
Endurance athletes are always looking for ways to move their bodies in new ways, so gifting them a new experience that will help them move is a great gift. If they've been mentioning a new form of exercise or a new active hobby, you can give them the gift of trying something new. You can even participate with them so that you give the gift of memory as well.
For example, if you know that your endurance athlete is interested in water adventure sports, you could gift them with surfing lessons for the two of you. Surfing is a great form of cross-training that will help them round out their fitness by working their entire bodies. You need to use your legs and core to balance, your arms to paddle out, and you have to train your mind as well to do all the proper steps to catch a wave. You could also look into a variety of other water sports depending on where you live.
Another option is to give them a membership to a specialized gym that offers a sport they haven't tried before. For example, if they've always loved ice sports like hockey and figure skating, you could sign them up for lessons to learn how to ice skate or gift them hockey equipment and recommend a nearby recreational team to try out for, depending on their on-ice abilities.
Help Keep Them Moving
If the person you're buying gifts for works a traditional office job, they probably spend a lot of time sitting at a desk. Sitting for extended periods of time can be detrimental to their recovery and overall health since it can cause strain on their neck and other issues due to poor posture or extended periods of time sitting. Look for online office furniture to order as gifts for endurance athletes as a way to keep them active and properly aligned during their workday. Here are a few pieces you can get to help them out:
An Ergonomically Designed Chair. If the athlete you're getting a gift for spends a lot of time sitting at their desk, you can help their alignment by getting them a desk chair that is ergonomically designed to minimize small pains caused by awkward or incorrect postures.
A Convertible Standing Desk. One way to minimize the time spent sitting at a desk is to start standing at a desk instead. There are tabletop options that can convert from a sitting desk to a standing desk, which can make it easy to transition from one to the other throughout the day.
A Yoga Ball. If you have a tighter budget while you're looking into gifts for endurance athletes, looking into getting them a yoga ball to use as a substitute desk chair is a great option. It will help the athlete you're gifting engage their core and legs while just sitting at their desk, and it forces them to think about their posture and actively fix it while they work.
Sport Specific Products
Depending on what sport your athlete does, there will be specific things that they need for their sport. Pay attention to the products that they use every day and make sure that you buy the same type or brand. Here are a few ideas to get you started:
What Clothes Do They Use? Does the endurance athlete you're buying a gift for wear the same pair of shorts every time they go for a workout? Buy them another pair or two so that they can alternate between different options. If they ever talk about a brand that they want to try, you can buy them a piece from that brand that you know that they'll use, like a pair of bike shorts or a sports bra.
Accessories. If you're buying for someone who goes out in any weather to do their runs or bikes, you can look into buying weather-appropriate accessories. For example, if you're buying for a runner, you can buy them running-specific gloves, a warm head covering like a Buff or a beanie, and thick running socks that will keep their feet warm and dry while they grind out miles in the snow. You can also opt for things better for the Summer, like water bottles, cooling towels, or portable ice packs.
Headphones. No matter what endurance sport someone does, the odds are that they are going to wear headphones for something. There are plenty of headphones made for all sorts of endurance athletes, even headphones that you can wear while swimming. Make sure that you check out all the options and read reviews to ensure that the headphones you're buying are the best option for whatever you're looking for.
Buying perfect gifts for endurance athletes can be hard, but hopefully this list has given you some great ideas to start with.