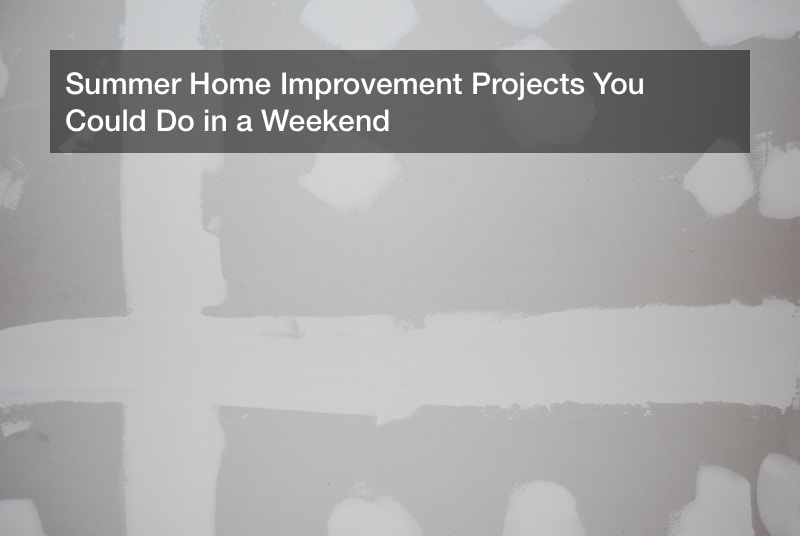 Did you know that your physical environment plays a surprisingly large role in your mental health and general well-being? Inside the home, clutter can be distracting and set off a chain of procrastinating behaviors. Similarly, clutter and mess — inside and outside of your home — significantly raises cortisol or stress hormone levels.
The solution is simple. Give the interior and exterior of your home a little TLC.
Relatively straightforward and inexpensive projects in and around the house can significantly increase your curb appeal and resale value as well as the overall appearance of your home. With a little determination, you can complete these summer home improvement projects over the course of a single weekend.
Here are the top projects to take on in just three days or less.
Replace Your Roof
Replacing your roof can sound like a daunting undertaking. It is also a necessary one. Neglecting roof repair can have several consequences. First, to go back to your mental health and your enjoyment of your home, it is difficult to kick back and relax when you know that roof repairs and/or roof replacement are long overdue. And it's no wonder. Failing to maintain and repair your roof can lead to serious problems like leaks, water damage, and structural issues.
Keep your roof at its best by tackling one of the most important summer home improvement projects: roof replacement. First, determine the best material for your rooftop. Did your old roof hold up well, or did it fail to last the average 15 to 25 years? If you're choosing a new material, weigh the pros and cons of each — and don't forget to take your immediate surroundings into account. For example, metal roofs are durable and long-lasting. They are a great option to keep maintenance costs low. They may not be the best option for particularly hot or sunny locales, however.
Remember when replacing your roof, it is now a legal requirement in most areas to entirely remove old shingles before laying down new ones.
Install New Lighting Fixtures
For this next project, it is wise to have a residential electrician number on hand. New lighting fixtures can instantly spruce up the rooms inside your home as well as your home's exterior. According to Houzz's recent article "34 Trends That Will Define Home Design In 2020," this year, statement pendants or statement pieces will be all the rage when it comes to lighting fixtures. The bigger, the more off-the-wall, the better! Dress up a somewhat subdued kitchen with an oversized lighting fixture. According to Houzz, modern homeowners want "light fixtures that are basically works of art themselves."
Of course, tailor this project to your tastes. If they're more in-line with your personality, stately, elegant fixtures still make an incredible impact in terms of your house's appearance. Replace barebones outdoor lighting fixtures with black wrought-iron fixtures for a classy and refined touch.
Stop Putting It Off! Pave Your Driveway
Paving the driveway is a simple and relatively fast way to give the exterior of your home a fresh, polished look. Paved driveways are cleaner and easier to maintain. Rainwater runs off them and into appropriate venues, instead of pooling into large, muddy — and unsightly! — puddles. A paved driveway also considerably boosts the resale value of your house.
What are you waiting for? If you fear that paved driveways all look the same, think again! Residential concrete services have drastically improved over the years, and there are now many chic options for a paved driveway that is far from drab. Create a statement by experimenting with different color pavements, stamped-on textures, minimalist design, and/or mixed materials. Opt for a warm, but subdued color concrete for hot, humid areas. Plus, a light yellow or cool beige will contrast nicely with your lawn, making vibrant green grass look even greener. Outline paved driveways with bricks or natural pavers to make it pop.
Get New Counters
When it comes to summer home improvement projects, it may be time to rent that residential roll-off dumpster. A small kitchen renovation, like replacing countertops, packs a tremendous return on investment (ROI). According to Remodeling Magazine, simple renovations and improvements in the kitchen come with a promising ROI of up to 83%.
Not only do new kitchen cabinets pay off in the long run, they dramatically improve the appearance of your kitchen, too. When replacing kitchen countertops, carefully consider your needs. For example, marble is trendy right now but it is not the most durable material. Quartz, on the other hand, exudes the same elegance as marble, while also being stain-resistant and easy-to-clean.
As for the counters themselves, choose from the most popular styles. Do you want glass-front cabinets, flat-front cabinets with recessed handles, or Shaker-style cabinets? Glass-front cabinets are chic. With the right lighting, they can make small kitchens look bigger. Flat-front cabinets are simple, look great, and they're functional, too. Shaker-style cabinets, or tall cabinets taking up the entire space from the floor to the ceiling, suggest elegance and provide a ton of storage space.
Have the Pipes Inspected
Not all summer home improvement projects that can be done in a weekend are about aesthetics. It is also important for your peace of mind to know that essential fixtures in your home are doing what they are meant to do — and that includes your pipes.
Blocked up or leaky pipes can cause all sorts of problems, from leaks and too-high water bills to backed up drains, overflowing sinks, and even overflowing showers and toilets.
Routine drain cleaning stops these problems in their tracks and prevents them altogether if you are diligent enough. To quickly clean drains, pour equal parts baking soda and vinegar down the drain. Start with the baking soda followed closely by the vinegar. Pour hot water down the drain after several minutes (10 to 15) to help flush any remaining residue down the drain. For serious clogs, call a professional. Take precautions to avoid seriously backed up drains. Avoid pouring grease down the drain and treating sinks without garbage disposal units like sinks with garbage disposal units (i.e., even small bits of food belong in the trash). Flush only toilet paper. Ask guests and children to abide by house rules and avoid flushing wipes, paper towels, and any other products, too.
Wash Your House
Over the years, grime, mold and mildew, bird droppings, and tough stains can buildup on the outside of your house. Washing your house can effectively remove dirt and debris, leaving your house looking like new. It is also an important step to take if you plan to repaint your home's exterior.
Before washing your home, know the basics. For example, some materials are suited to pressure washing while others are not. Skip the pressure washer for delicate materials that can easily sustain damage — materials like stucco, brick, and artisan wood shingles. Most wood siding, vinyl siding, and hybrid materials benefit from thorough pressure washing.
Even the most well-intentioned and knowledgable homeowners may have a lot of questions when it comes to washing their homes. What settings and nozzles are best? Should you use soap or cleaner? What about windows, doors, and fixtures outside the home? When in doubt, it is always best to consult with a house washing service. Call in professionals. They'll get the job done quickly, efficiently, and help you free up time for even more summer home improvement projects.
Washing homes at least once per year keeps them in their best possible condition. That is important not only for your sanity but also when it comes time to resell. In 2019, a staggering 75% of homeowners did not get their asking price when selling their homes. Carefully maintain your home to up your chances of beating the odds.
Repair Old Appliances
Don't let old appliances fall into disrepair! Just like a shoddy roof or leaky pipes can do a number on your mental health, a broken dishwasher can be put a significant damper on your mood. If you have spent months using paper plates and plastic utensils and/or washing dishes by hand, it is time to look into reliable appliance repair.
One of the most worthwhile summer home improvement projects is completing little fixes around the home, particularly when it comes to costly and/or frequently used appliances.
Fix a slow-filling washer by thoroughly scrubbing and rinsing the inlet screen. Deposits can buildup over time, causing slow washer cycles or leaks. Get a smelly dishwasher up to snuff by removing the trays and scrubbing it down. Remove food buildup and check in hard-to-reach places, like underneath the dishwasher arm ports and in the dishwasher screen. Don't forget to clean these, too. This thorough clean can solve common problems, like dishes not coming out of the dishwasher clean.
Replace Your Garage Door
When you start brainstorming a list of possible summer home improvement projects to tackle over the weekend, you may not think of one of the most obvious ones: replacing the garage door.
Installing a new, striking garage door is one of the trendiest ways to boost your home's curb appeal. There are just about endless options when it comes to fitting your home with a modern garage door. Here are just a few:
Curbscaping. Landscaping is a big focus this year. Why not extend it to your garage door? After putting in a new, sleek garage door, many homeowners are also surrounding it with a trellis and arbor. Grow green plants, flowery plants, and vines on this trellis for a garage that has character and looks extra "green!"
Double Bay Garage Doors. "Double bay, Craftsman-style doors are the perfect fit for a stylish and charming abode," HGTV writes. Double bay doors can be relatively subdued, simple, and easy to install and maintain while giving your home that little extra something.
Smart Garage Doors. Are you constantly worried that you forgot to shut your garage door? New, smart garage doors and smart home technologies connect various facets of your home — now including your garage door too — to help quell these worries.
Install New Fencing
For summer home improvement projects that are practical while improving the appearance on your home, consider taking a careful look at fencing.
Before putting up a new fence, ask yourself what you are hoping to accomplish. If you want to keep the dog in your yard or small animals out, a simple chain link fence may suffice. If you want to create necessary separation and privacy between your yard and the neighbor's, a tall, sturdy privacy fence is much more appropriate.
Carefully mull over colors and materials as well. While it may be a status symbol to install the oft-coveted white picket fence, these fences aren't always the most appealing or utilitarian. White shows dirt easily. Trendy, black fences are much more forgiving and help the green of your plants, grass, and shrubbery pop. Plus, when completing summer home improvement projects, vinyl is easiest to hose down and clean. Unlike wood, it does not mold, rot, and warp, either.
Most summer home improvement projects can be completed in just one weekend — and significantly improve the look and feel of your home. Tackle the summer home improvement projects above to relax and truly feel comfortable in your own skin while inside your home and lounging around or dining in the backyard.
These improvements keep on giving, too! According to Forbes, many homeowners choose to tackle home improvements in lieu of making a big move. These fixes around the house enable homeowners to stay in their preferred community — close to their friends, jobs, or children's school — without sacrificing their preferred quality of living. It also affords new homeowners greater options when buying. It is much easier to take on quick home improvement projects than it is to find a new neighborhood or areas that meets all your needs.
Stop putting off that home improvement project. Devote a weekend to ticking off a few of the most pressing projects on your list!