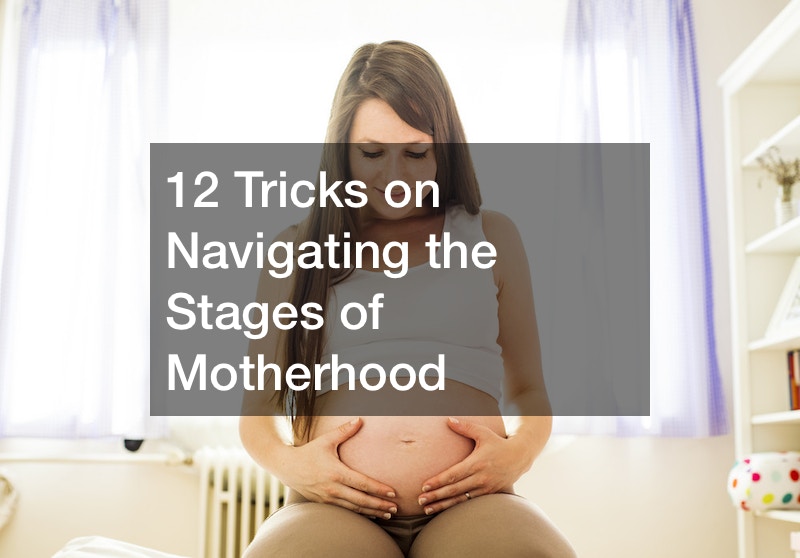 Becoming a mother for the very first time is often one of the most memorable milestones for women. If you are new to being a mother, familiarizing yourself with the various stages of motherhood will help you navigate through your journey. When you are familiar with the different stages of motherhood and what to expect, you can better plan and prepare to ensure the most enjoyable and rewarding experience possible.
1. Get to Know the Stages of Motherhood
When it comes to being a first-time mother, learning the stages of motherhood may feel overwhelming, especially when you are just starting out. The most common phases to familiarize yourself with include when you give birth and infancy through three months, 3 months through 3 years, and 4 years through 8 years. As you prepare for motherhood, knowing what to expect from your child at each new milestone will allow you to feel much more comfortable.
2. Learn to Trust Your Instincts
One of the most crucial stages of motherhood is learning to trust your instincts and rely on your own gut feelings. This one may be tricky, but it's one of the most important tricks you will learn as a new mother, regardless of your age and your experience with children. Trusting your instincts will help you feel much more at ease whenever you are watching your child, teaching them something new, or allowing them to socialize and interact with others.
3. Seek Medical Attention When Necessary
At times during motherhood, you may not know when it is best to call a doctor or take your child to the hospital. When in doubt, it's best to seek medical attention rather than wait, especially if your child is running a high fever, vomiting, or has uncontrollable diarrhea for any extended period of time. Seeking medical attention when you believe your child is ill is a way to address the potential issue sooner, rather than later, which can be extremely vital depending on what your child is struggling with at the time.
How to Find the Right Pediatrician Near You
Navigating the world of locating an ideal pediatrician can be overwhelming as a new mom. Asking for help from other friends and relatives you trust is a way to garner recommendations to local pediatricians if they have children themselves. You can also take time to learn more about different pediatricians in your area or region online. Searching for pediatricians online is a way to compare testimonials from patients, services, and overall ratings from those who have taken their own children to the pediatrician you are interested in seeing yourself.
4. Invest in a New Home Security System
Investing in a new home security system will not only help you to add a layer of protection in and around your home, but it will also allow you to do so while maintaining your peace of mind. Choosing to invest in a brand-new security system will help you keep your mind at ease regardless of the number of children you have in the home and their ages. When it comes to investing in a new security system, you can do so by choosing a complete system and solution or by shopping à la carte for the type of equipment you are most interested in for your own property.
Finding an Ideal Home Security System
Choosing the right home security system will highly depend on the type of equipment and technology you are most interested in. Working with local and trusted home security companies is a way to expedite the process of choosing and installing any type of system you have in mind. Whether you're interested in motion sensors or if you want a security system that can be accessed and monitored with the use of a computer, smartphone, or downloadable app, working with a reputable home security company is highly recommended.
Benefits of a Home Security System
Investing in a home security system is not just a way for you to ensure your own peace of mind, but it is an effective tool to deter burglars and potential thieves. Signage and security systems can deter the majority of potential criminals from targeting your home. Additionally, a modernized security system will allow you to monitor your home and property even when you are out of the house.
5. Reach Out to Local Service Providers
One of the most important stages of motherhood to keep in mind as you adjust to your new way of life is knowing when to delegate. Reaching out to local service providers such as a local dog groomer or even reputable childcare services can help you manage the schedule of your busy lifestyle. Taking the time to research and compare different service providers while also inquiring about testimonials and reviews will ensure you choose companies and contractors that you can trust, especially when it comes to placing your child in their care.
6. Take Time Out for Yourself
Going for a walk, heading to the spa, or even scheduling chiropractic treatments are all ways to practice self-care and take some time out for yourself, which is one of the most essential stages of motherhood to remember at any stage in your life. Knowing when you need a break and when you need to spend a bit more time on yourself will allow you to set aside time to alleviate stress and decompress. Allowing yourself some free time will also help you adjust to your new role as a mother.
How to Take Time Out for Yourself
Once you have determined you need a break, you will need to ensure your child is in the care of someone you trust, such as your spouse, a parental figure, or another relative you can count on and rely on in your times of need. Scheduling time out for yourself each week is key to preventing burnout or being unable to parent without breaking down. Speak with your partner or spouse to determine which day(s) of the week work best for you to have time away from the house or even alone. Scheduling your alone time in advance will also help you ensure you have proper childcare when it is most necessary.
7. Consider a Cosmetic Procedure as a New Mother
As a new mother, you may want to take more time for yourself in terms of cosmetic procedures and treatments, especially if you're determined to feel as confident as possible even after you give birth. Whether you're interested in cosmetic dentistry or if you've been pondering a breast lift, you will want to learn more about what each procedure entails by working with a trusted and professional cosmetic surgeon. Finding the right cosmetic surgeon will reassure you as they walk you through each step of the process from start to finish.
8. Spend Time Outside of the House
When it comes to adjusting to new stages of motherhood, you should also spend plenty of time outside the house. When you can, consider going on a sunset boat tour or heading out to and visiting your favorite family friendly restaurants. Simply spending a bit of time outside the house can provide you with the stress relief and time you need to completely decompress. This is especially important if you are a mom for the first time or if you feel overwhelmed at any time during your parenting adventures. A change of scenery can help you realign your thoughts and regain balance after a long and hectic day.
Benefits of Spending Time Outdoors
Learning to take time for yourself and spend time in nature can provide immense relief from stress, worries, and unnecessary anxieties. Simply spending time in nature is a way for you to increase the natural endorphins your body releases, including both dopamine and serotonin. Spending time outdoors will also allow you to decompress without using smartphones, technology, and the internet at all times. Allowing your mind to rest when you are in nature can allow you to feel much more harmonious and balanced, which is imperative when you are navigating the various stages of motherhood today.
9. Join Local and Online Motherhood Communities
Joining local and online motherhood communities can also be extremely helpful in adjusting to your new schedule and way of life. One of the most important stages of motherhood will often include making friends and socializing with other mothers and parents. Knowing other parents with children of the same age can help your child learn how to better socialize as they are adjusting to their own new world around them. Taking the time to join and visit local motherhood communities can also provide you with a sense of camaraderie.
Finding online motherhood groups and communities is also possible with the use of popular search engines as well as with various social media platforms, such as Facebook. Using groups and online communities can help you feel less alone while providing a safe space to vent, ask questions, and learn the ins and outs of being a mom 24/7. Enrolling as a member of an online community will also help you feel much more comfortable when asking questions, learning about a new product, or even researching the safety features of a brand you prefer before making a purchase for your own baby or child.
10. Upgrade Your Vehicle or Invest in a New One
As a new mother, you should consider upgrading your existing vehicle or investing in a new one, depending on the condition of your current car or truck. Upgrading your vehicle with new safety features, enhanced tires, and new equipment can provide you with peace of mind whenever you are behind the wheel with your new baby or child. You can also consider a mobile auto detailing service if you simply want to enhance the aesthetic and outer appearance of your vehicle. Taking time to invest in your own vehicle is a way to boost your self-confidence while allowing you to remain as independent as possible, even with your new bundle of joy.
11. Take Time to Renovate Spaces Around Your Home
Renovations and remodeling projects will help you to maintain a sense of independence, even if you are currently committed to working as a homemaker or mother at all times. Investing time and money into renovating the different spaces around your own home is also a way for you to express yourself creatively. Designing and creating the spaces of your dreams will ensure you feel much better about spending so much time indoors while you are raising your child or adjusting to a new life with a newborn baby.
If you are thinking of investing in a new room renovation or update, consider what you will be doing with each space individually. From working with local window shades companies to hiring a residential painting contractor, there are many resources to consider before you move forward with your next remodeling project. Renovating spaces from the ground up is the perfect opportunity to let go and to get a bit creative as you learn how to express yourself while simultaneously adjusting to life as a mom.
12. Give Yourself Grace as You Adjust to Your New Motherhood Phase
Even if you believe you are well-versed in the various stages of motherhood, it's important to give yourself a bit of grace as you adjust to each new period with your child. As a parent of a child of any age, you may not know what to expect, as your experience will vary based on your child's own unique and individual personality. Allowing a bit of grace for yourself will prevent you from being too harsh on yourself, especially if you believe you have made the wrong decision at any point in your parenting journey.
Becoming familiar with the different stages of motherhood will help you feel much more at ease as a mom, especially if you have just given birth for the first time. When you understand the different stages of motherhood, you can pinpoint exactly how to identify and solve issues your baby or child is facing. Immersing yourself in learning about motherhood and what to expect at different ages will provide you with the confidence and reassurance you need to make the right decisions each and every step of the way.