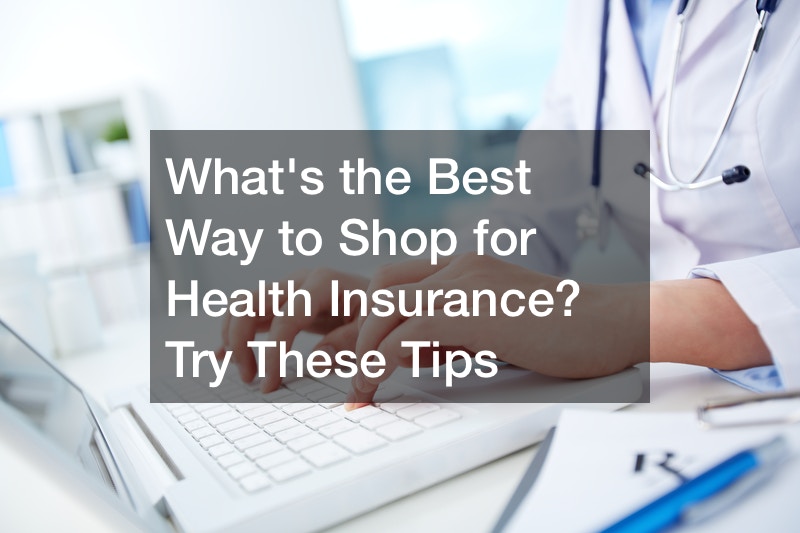 ---
---
There are many reasons why everyone should have health insurance. The most important reason is that health insurance safeguards you and your family. The truth is as we go about our everyday life, there's always the risk of the unexpected happening. You or your family member might fall sick or get injured. Whatever the situation might be, you may not be prepared to meet expensive healthcare costs.
Healthcare insurance can literally be a lifesaver if you don't have enough savings to cover medical expenses. However, before you purchase a healthcare insurance policy, it's essential to take the time to find the best policy available. Here's the best way to shop for health insurance so you can find the best deal possible.
Figure Out How Much Coverage You Need

The best way to shop for health insurance is to first determine how much health insurance cover you need. After all, your situation is different, so there's no one size fits all policy for everyone. You need to consider your health needs and other factors to ensure that you have the best healthcare coverage. When figuring out the amount of coverage you need, the most important factor to consider is age. Fortunately, there are various policies all designed to meet the needs of various ages. For instance, there are insurance policies for senior citizens who are at high risk of certain illnesses.
If you're still relatively young, you have the benefit of securing more affordable premiums, which allows you to get more coverage for less. However, keep in mind that if you have a family medical history of certain illnesses, you may be at risk of getting ill at one point or another. This is why insurance companies ask for your family's medical risk to evaluate your risks and help you determine the best coverage for you. Another factor to consider when choosing the amount of coverage you need is your lifestyle and the types of hospitals you prefer. Generally, if you lead an unhealthy and high-stress lifestyle, you may be at risk of disorders, such as diabetes and high cholesterol, so you'll likely need wider coverage. Similarly, you may require wider coverage if you want to be treated at top-tier hospitals that cost more. So your budget and the affordability of the insurance policy also come into play.
Understand What All the Terms Mean
If you're buying a new health insurance policy, then there may be a lot of jargon and terminology you may not be familiar with. Therefore, the best way to shop for health insurance would be to make an effort to understand the product you're buying. After all, you wouldn't just pick an unfamiliar product from the shelf and throw it in the cart without reading or understanding the label, would you? Even if you're familiar with some insurance terms, it never hurts to brush up on your knowledge of basic health insurance terms. Remember, before signing on the dotted line, you need to read the fine print to make sure everything checks out.
The last thing you want is to misunderstand a particular phrase or word, as this can result in some nasty surprises down the line. Sure, insurance terms can sound pretty complicated and confusing, but the good news is there are many online resources you can use to help you understand some of the difficult but crucial terms. These online resources break down the terminology and simplify it so that it's easy to understand and digest. To get started, make sure you understand common insurance terms and definitions, such as actual cash value, at-fault, deductible, exclusion, occ acc insurance, and limits.
Determine Insurance Amount, Premium, and Deductible

<p>When choosing a plan, the best way to shop for health insurance is to also consider the amount on your insurance as well as the premium and deductible, depending on your budget and needs. The amount on your insurance is the dollar figure you're eligible for when making claims for each year. The deductible refers to the amount you have to pay for covered health services before your insurance plan can kick in. On the other hand, premiums are the monthly payments you make to your insurer to keep your plan active.
The relationship between your deductible and premium is inverse because when you're willing to pay more money upfront for healthcare services, you don't have to pay as much to your insurer. However, you need to strike the right balance when choosing the right premiums and deductibles for you. That's because if you choose a deductible that's too high, this can leave you with expensive out-of-pocket costs. When your budget is tight, you may not have enough money to hire a cleaning service or lawyer or pay for medical services like IV therapy that add more minerals http://jbwaterwell.comto your body and help you recover fast when you're not feeling well. At the same time, when your deductible is too low, you're stuck paying premiums that are too high.
Avoid Misleading Ads
Many people use online resources as the best way to shop for health insurance. However, although this can be convenient, it also comes with its own set of risks. The major risk you'll face online is scammers who're looking to swindle you of your hard-earned money. Some scammers even go to the effort of constructing fake but elaborate websites where they claim to be the official health insurance marketplace in your state. Because the website looks legit, many people are duped into providing highly sensitive information. This information is then sold to disreputable health insurance companies who use it to force an interaction with you.
When it comes to the best way to shop for health insurance, remember this rule of thumb: If it looks too good to be true, it probably is. Some healthcare insurance companies post attractive ads with offers that motivate you to rush and purchase a policy with them. However, if you don't read the writing on the wall, you may very well discover that all is not it appears to be. For instance, you may be offered discount plans that promise to save you money. You may then discover that these cards are not legitimate or they don't cover your medical claims. To avoid this, make sure you verify whether an insurance company is licensed in your state or get professional help to protect your rights when buying a health insurance plan.
Decide If You Require Treatment for Specific Illnesses and Conditions
Do you have pre-existing conditions? Then this is something you have to factor in your search for the best health insurance policy for you. When you perform your research, you'll likely come across chronic conditions special needs plans that are offered to specific individuals dealing with severe chronic conditions, such as cardiovascular disorders, chronic mental health issues, or neurologic disorders. If you qualify for this type of insurance, then it may be best to sign up for this customized option. Doing this will help ease your anxiety about what would happen to your finances if you were to fall sick. Unlike those who enjoy perfect health, the risk of requiring healthcare services when you have pre-existing conditions is higher. Therefore, you need a financial safety net to fall back on when medical bills get too expensive.
Make Sure You're Aware of All Costs Involved
Your budget is one of the most significant factors affecting the outcome of your health insurance shopping activities. While you may be aware of your premiums and deductible, you also need to understand all the expenses and charges involved. For instance, you may have to pay out of pocket if your insurer requires you to make a co-payment with each claim. Your policy may also include other costs that you may not be aware of. Some insurers will not disclose this information to you unless you ask, so always make it a point to ask about the total costs involved. Combined with checking the fine print of your contract, this will go a long way towards helping you budget for your health insurance costs.
Look For Perks and Benefits
Some health insurance plans offer benefits and perks you may not be aware of, so you need to do your research properly. That way, you can get the most out of your plan when the time comes. The best health insurance plans often offer hidden benefits such as nurse support lines. This allows you to access round-the-clock medical advice that can help you decide the best course of action if you're not feeling well. You can save yourself a trip to the doctor by getting a recommendation to buy over-the-counter drugs that can help you feel better.
You can also find a policy plan with convalescence benefits, which covers expenses related to your recovery or recuperation. Similarly, alternative treatment covers the cost of alternative treatments, such as homeopathy and Ayurveda. There are a lot more perks that come attached with some health insurance plans, so always keep an eye out for those. The list includes attendant allowance, daily hospital cash allowance, plus more.
Consult Your Healthcare Providers

In the course of your life, you may find yourself dealing with different healthcare professionals, whether it's your family doctor, a pediatric dentist, or an Ob/Gyn. Your health insurance plan will cover the cost of services provided by these professionals. For instance, ob/gyn medical billing often involves submitting claims and getting paid by the insurance company. Even those who're seeking pain management physiatry jobs will eventually offer services that are covered by your plan, depending on the type of policy you have. Therefore, the best way to shop for health insurance is to consider that your choice of health insurance plan is affected by your healthcare provider.
Ideally, you want to choose a policy where your doctor is an in-network provider, so you don't have to pay extra when you go see your favorite dentist for a tooth extraction. If you like your healthcare providers, talk to them about the health insurance plans where they fall under in-network providers. This is easier if you have more options to choose from; otherwise, you may have to switch healthcare providers to those that are included in your plan's network. Healthcare insurance companies typically maintain network agreements with various healthcare professionals, so hopefully, you should be able to find a plan that includes your preferred providers in its network.
Always Read the Fine Print
When you have the contents of your health insurance plan in front of you, you need to take your time to understand them before signing on the dotted line. So far, we have looked at the best way to shop for health insurance, and after finding the right plan for you, you need to make sure everything still checks out by reading the fine print. A reputable insurer will always give you plenty of time to go through the fine print, so don't rush this process. The problem most people have with this part is they don't want the hassle of reading through the lengthy fine print, so they just end up skipping the crucial bits and agreeing to things they shouldn't.
However, the best thing you can ever do for your future self is to know all the ins and outs of your plan. Start by checking what your plan covers and the features and benefits it offers, whether that includes maternity benefits, ambulance charges, or cashless hospitalization. You should also double-check other small details, such as the network of hospitals specified in the plan as well as your limits and exclusions. If there's something you don't understand, seek clarification or ask for a correction before you complete the purchase of your health insurance plan.
Now that you know the best way to shop for health insurance, keep these tips in mind when comparing health insurance plans. Though the process can seem overwhelming, knowing the best way to shop for health insurance will ensure a better outcome for you.