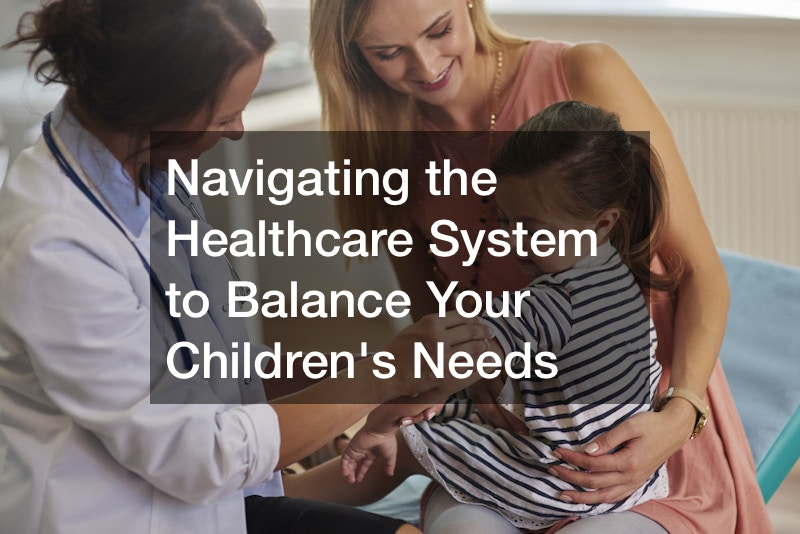 All children need healthcare from before they are born. When a mother finds out she is pregnant, she starts preparing for what her child will need to grow up healthy and strong. Even healthy children need help from a medical practitioner to maintain and improve their health. So, you will need to take them to see a doctor from time to time. And if your child suffers from a chronic illness, navigating the medical system while trying to balance your children's needs can be very stressful. If you are unfamiliar with the medical system and all the people your child needs to see while growing up, here is a guide with information about the various healthcare professionals your child might need to visit to ensure they grow up healthy and strong.

Start With Your Family Doctor
Your family physician is probably the person you and your child will see more often. They are healthcare practitioners who see the whole family for regular medical check-ups and treat minor or major illnesses. They also provide appropriate referrals to specialist medical practitioners if the need arises. The family physician will assess and examine your child when they are ill. They will take a medical history, prescribe appropriate medications, and perform the diagnostic tests needed. If the child needs specialized medical care, they take care of the referral to a specialist.
Get Referrals and Follow Up With Them
When confronted with the event that your child has been diagnosed with a serious illness, parents need to learn to navigate the healthcare system to balance their children's needs and secure optimal treatment. Studies show that children of parents who are more agile at navigating the healthcare system receive better quality care.
If your child has been diagnosed with one of the most prevalent childhood diseases, like pediatric diabetes, your family physician may refer you to a specialist pediatric endocrinologist to receive further treatment and management of this life-long condition. You must follow up with the referral, as successful treatment of your child involves the collaborative engagement of parents and healthcare practitioners. The pediatric endocrinologist will train you to oversee your child's treatment at home, including administering insulin, observing the disease's signs and symptoms, relaying that information to the healthcare system, monitoring your child's compliance with dietary and activity guidelines, and limitations of your child's treatment protocol. Many times, the success of your child's diabetes treatment is shaped by the relationship between you and your pediatric endocrinologist, and a productive relationship ensures that your child receives optimal treatment.
Take Care of Injuries Quickly
Children often get injured while playing with their friends or during sporting activities. Their injuries often involve broken bones, pulled muscles, or injured tendons that need immediate attention from a healthcare practitioner. The orthopedic clinic is the best place to take your child with bone or muscle injury, where specialists diagnose, treat, and manage various musculoskeletal injuries. They will help you balance your children's needs when receiving emergency treatment or treatment for chronic conditions like clubfoot, scoliosis, and gait abnormalities. If you don't know where your nearest orthopedic clinic is, take your child to an emergency department of any hospital for urgent treatment.
Find a Great Pediatric Dentist
Healthy, white teeth are important to an individual's image. Parents need to pay attention to their children's dental health care as it is often overlooked in providing health care to their children. Good oral health improves your child's general health and helps them feel more confident and accepted socially. Most dentists who treat adults can also treat children with dental problems. But if you can, take your child to see a dentist for children, then do so. A pediatric dentist will provide comprehensive preventive and therapeutic care for children and infants, including providing care for children with special needs.
Taking your child to a dental clinic for kids will ensure that your child sees a dentist who has advanced training in pediatric dentistry and more experience in working with children. They are specifically equipped to treat any dental problems in children under 18. A dental clinic for kids will provide dental exams, professional teeth cleaning, dental x-rays, fillings, crowns, extractions, and some limited specialty services such as orthodontics and specialized treatment for oral pathology in a child-friendly environment.
Keep Up With Dental Hygiene at Home
Taking care of your child's teeth begins at home. Many parents don't realize that teaching their children about dental hygiene early in childhood leads to better oral health and compliance with dental hygiene tasks later in life.
Poor oral care in childhood can lead to tooth cavities and gum disease in children. It has also been linked to other systemic conditions like heart disease, cancer, and diabetes. Teaching your child proper oral hygiene habits like brushing, flossing, and avoiding eating too many sugary foods will help to balance your children's needs when it comes to dental health and prevent costly treatments later in life.
Don't Be Afraid to Switch Healthcare Providers
Looking after your child's baby teeth is an important part of a child's development. Parents may think those "milk" teeth are not as important to look after because they naturally fall out once your child reaches the age of 7 or 8 years to be replaced by the "permanent" teeth. But baby teeth have an important role to play. They help your child to speak, chew their food, and smile. If your child's baby teeth fall out prematurely, it may make it difficult for their permanent teeth to fit into their proper spaces.
Seeking out specialist dentists for children is important when you are trying to balance your children's needs. If you find that the provider you chose does not fit your needs, you may always try to switch providers to find someone with whom you can build a positive professional relationship and collaborate to secure your child's dental health.
Visit an Optometrist Once a Year
Vision is one of the ways that a child learns about their environment. Yet, visual impairment has been identified as one of the leading chronic illnesses and disabilities that affect children in the United States. As a parent trying to balance your children's needs, you may not skip these important eye exams.
A child's first eye exams usually happen around their third birthday. Healthy children should continue to have their eyes tested once a year as a precaution. Regular vision acuity testing will help providers uncover any developing disease or eye problem early. Early detection equals better treatment outcomes and generally better vision for your child. So, try to arrange a visit to an optometrist when you are doing your best to balance your children's needs.
Make Sure Your Children Are Ready for New Activities
Kids love sports, and being physically active should be encouraged by parents. However, if a child competes in sports at a more advanced level, chances are that they will be prone to strain their muscles, joints, and ligaments. Some kids may be suffering from metabolic chronic conditions like asthma or diabetes, and parents should also monitor their sporting performance to make sure that the children are physically challenged by their sporting endeavors but do not push themselves so hard that they suffer a sports-related injury.
That is why it is a good idea to take your child to get a sports physical to make sure that your child is physically ready to participate in their chosen sport. Most states require school-going children to go through sports physical before they take part in a school sport, especially team sports, where peer pressure can cause your child to exert themselves while trying to perform at a more advanced level than their body can safely handle.
A word of caution should also be added to parents. When a child feels that they need to build muscle mass quickly to participate in a team sport above their age group, they may use anabolic steroids. That is detrimental to their overall health as it can cause organ damage and even death when the child takes a dose bigger than required.
Keep First Aid Items on Hand
Whenever you live with children, there will be accidents that require medical assistance. Most of them are minor, but sometimes something more serious can inadvertently happen to your child. You want to balance your children's needs and be prepared for those moments and invest in well-stocked Individual First Aid IFAK medical kits.
IFAK medical kits are designed to hold all the supplies and equipment you will need to help a child or another person in the event of an injury or other health emergency. Providing first aid at the scene of an accident often reduces the severity of injuries. It stabilizes the child's medical condition before they can be transported to receive a higher level of care. Many times, being able to provide first aid can save the life of the patient. Being prepared for a sudden cardiac arrest or other injuries will help you to balance your children's needs when saving them in an emergency.
Prioritize Balanced Living Habits
Living a healthy lifestyle is a good place to start to make sure you balance your children's needs when it comes to their health. Teaching your child healthy habits ensures that they will grow into healthy adults and should start with a child as young as possible. Provided that your child has no genetic or other severe illnesses, practicing healthy habits will help them stay well and healthy.
One of the important habits to teach your children is to exercise, and each child should spend a part of the day outdoors playing games (younger children) or taking part in a sporting activity (older children). Spending time outdoors promotes the release of endorphins, the feel-good hormones which help your child develop mentally and emotionally.
Eating a balanced diet is important for your child's well-being. Feeding your children food from all major food groups every day is important to help them grow and develop mentally and physically.
Practicing good hygiene habits teaches children the fundamentals of staying healthy and protects them from infections and illnesses. Good oral hygiene should be a part of the general hygiene routine.
When your children play in the sun, make sure they have applied sunscreen to protect their fragile skin from sun damage. While spending time in the sun is healthy and helps our bodies make Vit D necessary for good health, too much sun can burn the skin, leading to problems in later life. Continuously getting sunburnt while your children are young can cause them to develop skin cancer growth in their fifties or sixties.
Developing healthy relationships is another important aspect of well-being and balancing your children's needs. Encouraging your children to make friends and having strong family bonds will ensure that your children grow up emotionally well-adjusted and become successful adults.
Lastly, prioritizing balanced living habits while you try to balance your children's needs means that you need to teach your children how to handle stress. Stress is an inevitable part of living, and if they learn good coping strategies from you, children are more likely to handle their emotions in a healthy way in the future.
Keeping your child healthy and balancing your children's needs means that you must learn to navigate the complex healthcare delivery system in the United States. Parents have the role of links between health care providers and the child. As a parent, you must integrate medical information from multiple sources, meet the time demands for appointments, medical procedures, and administer home treatment. Even though it may seem like hard work, it is worth it to balance your children's needs in the end, so they turn into happy, healthy, successful adults.