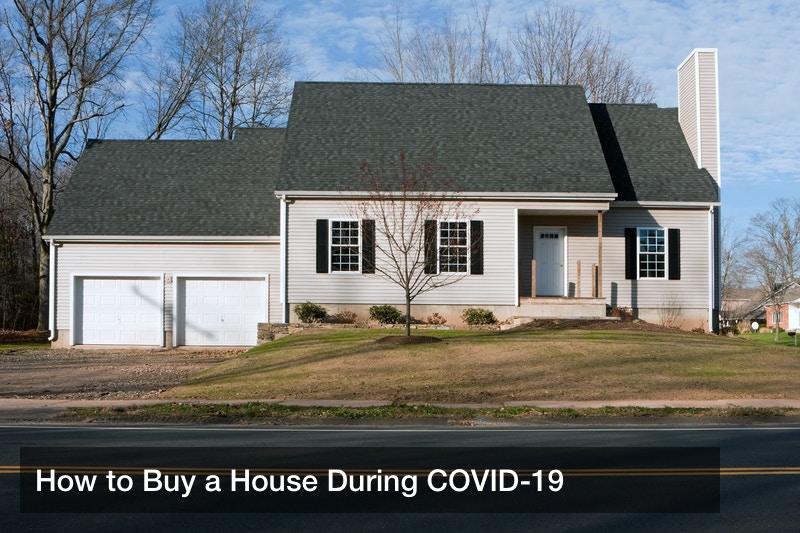 The COVID-19 pandemic has certainly altered the way we live our lives.
From traveling to simply going out to the grocery store, we're temporarily forced to change the way we do things in the name of staying healthy and safe. This has also applied to home buying, which has become particularly tricky in these trying times.
Homeowners who had their hearts set on buying a home in 2020 are now facing a housing market that is in flux. While the housing market has held steady, there's still the main question of whether this is a good time to buy a new home.
If this question is still hanging on your mind, here are some tips on how to purchase your dream home during the pandemic.
Decide If This Is the Right Time to Buy a New Home
Before you embark on the joy of buying a new home, you first have to decide if now is even the right time to buy into a home.
In addition to the usual pressures of whether or not the finances are OK to dive into this new venture (more on that later), there's the added pressure known as the COVID-19 pandemic.
The pandemic has upended normal life in America, so much so that safety and health is now a critical factor in everyday life. Buying a home hasn't been untouched by the pandemic, which has led to many people wondering if this is even the right time to buy.
Chief on the minds of potential homebuyers is financing, which has grown tighter in an ever-shrinking economy. Job security and home values became ever-increasing worries for potential new homebuyers, and while the job situation continues to look grim, news of home prices staying up have cause many to (cautiously) continue on the path forward on buying a home, which is encouraging for realtors who feared the worst when the COVID curtain descended on the land.
COVID-19 has made everyone second-guess on matters that, at the beginning of the year seemed so normal.
Nowhere does those scenarios play out then buying a new home. With all of the regulations and anxiety surrounding the market, this is a more stressful time to go out and search for a new home, safely.
So at the end of the day, you have to sit down with your family, and discuss if this is the right time to make the move in buying a new home. You have to consider additional factors when making this decision, as to whether or not you'll be able to take an in-person tour to make sure that you'll be able to get a worthwhile investment on your potential new piece of real estate.
All of this will factor into a huge decision made even bigger by the pandemic, so take all the time that you need and decide if this is truly the best time to embark on a new home search.
What You Need To When You Meet With Your Realtor
The realtor will be your main point of entry into your new dream home.
In normal times, the process of looking and buying a new home would be simplistic, but COVID-19 has thrown a new, more complicated wrinkle into the process. Now, when you go to meet your realtor to go home shopping, you may need to ask ahead what social distancing or COVID mitigation guidelines they may have in place.
Maybe your realtor will require you to wear a face mask or adhere to social distancing while touring a new home? Or maybe they have stopped in-person home tours altogether? Maybe you won't be able to meet your realtor at all and will have to speak to them via cameras?
Asking these questions ahead of time will save you some anxiety as to what you should expect when you meet the realtor.
Check Up On The Market
Looking at the overall picture, COVID-19 has seemed to have done little damage to home values. In fact, in some areas, the real estate market has stayed hot while the rental market has begun to flounder.
You could also be in for some savings, as, in 2019, 75% of homes sold within that year were below the asking price.
So if you're looking at the home market from that perspective, this may be the best time ever to move from renting to buying. There's a lot more stability in homeownership and more rights.
However, keep in mind that not all housing markets are equal, and some have indeed taken a small hit thanks to COVID-19. Just as we mentioned earlier, it will save you a lot of stress wondering how home values are by checking out what the housing market is like in your area.
Head To The Internet Before Meeting Your Realtor
With COVID-19 taking up real estate in the world right now, a lot of everyday activities have moved online, and that includes home browsing.
Granted, before the pandemic hit, many potential home buyers were already flocking to sites like Zillow to view their future home; but now, those online tools have become more important than ever.
It is highly recommended that you head to the web first before meeting up with your realtor. That will save you a lot on in-person interaction time and will limit that time only to the homes that have ticked your fancy online.
Browing online listings will give you a distinct look inside your potential new dream home and you can filter the results to just what you're looking for. Maybe you're looking for homes with marble bathroom countertops or a modern-looking kitchen? You can view only the homes that have what you're looking for without meeting the realtor in person.
Right now, the internet will be your ticket to finding your new home.
Aim For Preapproval
While searching the market and scouring online listings are essential parts of getting the home buying process started, there is the part that should be done before beginning all of that: preapproval for a mortgage.
Besides, the mortgage will be the biggest monthly expense you will take on in your new home, and now is the best time to see whether it not you will be approved for a loan. You don't want to go through the entire process of buying a new home, just to find out that you may not be approved for a mortgage, don't you?
According to the insurance company Travelers, you must get your information together now that will help your lender see if you're preapproved for a mortgage.
Once that hurdle is cleared, then that's when the fun of house hunting can truly begin.
Pay Attention To Stamp Taxes
Once you've zeroed in and have purchased your new home, you will learn of a very important tax that may get added to your home price: The stamp tax.
A stamp tax is a certain tax that is levied on documents. This tax can be applied to any document, from checks to marriage licenses. The stamp tax is also applied to deeds and home mortgages, and this tax can factor into the overall price of the home.
Make sure that you find out about stamp taxes in your state, and also ask your realtor if there's any chance that you could get some savings from the tax.
Keep An Eye On Those Savings
Money is what makes the world go around, and keeping up with your cash flow is critically important to make sure you're ready when problems arise in your new home.
According to Bustle, it is essential to have enough money left over after the sale to take care of household problems such as water heater repair and the like.
On average, heating and cooling maintenance make up a whopping 54% of utility bills, and that money will surely be translated to residential HVAC companies. Or, if your hearer goes out all of a sudden, you'll need money to pay the heating company to repair your unit.
It takes a lot to maintain a home, so make sure your savings are there when unexpected problems do arise.
Don't Get Swindled By The Hidden Costs
We've all been there.
We've looked over a document thinking that the price advertised is the price that we'll pay. Then, once the first bill arrives, you'll see all sorts of costs and fees that you could have sworn wasn't there when you were negotiating with your realtor.
Hidden costs are, unfortunately, a part of the home buying process, and it will catch many first-time buyers by surprise.
So what can you do to make sure that you're not caught by hidden costs and fees? Research, research, and more research will give you all of the financial information that you need to access what the true cost of a home will be.
If you can't gather the information by your own research, don't be afraid to ask your realtor all sorts of questions about extra fees. After all, it's your hard-earned money, and you have the right to know what you'll be paying into once you put your signature on the documents.
Then there are those hidden costs that could sneak up on your after your move in. Take for example your garage door. It was working well before you bought the home, but soon after, it stops functioning. Now, you'll have to sock money into garage door repair to have it fix.
Hidden costs are the devil.
Have Someone Inspect Your New Home Before Signing
While your new dream home will look brand new, make sure that there aren't any lurking issues with the house before you move your stuff in.
This is especially important during the COVID-19 pandemic, a time in which you can't be lax on what the previous occupiers of the home have left behind. Make sure the plumbing is up-to-par or get a repairman to see if there's anything wrong with your home's heating and air conditioning unit.
You may also want to hire a civil engineering firm to see if the home is structurally sound. Yes, it may cost you a little more money (or, if you can get your realtor to chip in at least some of the cost, the better), but that will be money well spent knowing that you will be moving into a sound home.
Also, after your move-in, practice some money-saving tips. Remember earlier when we said that most of an annual utility bill is eaten up by air and heating? Well, to control that, invest in affordable heating options such as controlling your thermostat to save you some much-needed coin in your new digs.
Stay Calm
Searching for a home in normal times can be stressful enough, but it's even more taxing on your stress level now that you have to also deal with COVID-19.
Thanks to all of the rules and regulations that are currently in place to keep everyone as safe and healthy as possible, these rules have also made it extremely tough for realtors and other professionals to carry on in their work.
That will put a little more extra time in your home search, which is why it is very, very important that you keep your cool and refrain from getting frustrated with your home search.
Remember, we're living in a new era right now and everyone has been affected, so keep calm while searching for your perfect home.
In conclusion, COVID-19 has thrown the simple, normal task of finding a new home into a tailspin. Realtors are working with new regulations and a housing market that, while still holding steady, come falling soon.
For you, the potential homebuyer, this has decided on whether to buy now more difficult. No one will know for sure where the housing market will be a year from now, nor, if you do decide to buy in if your home will weather the economic storm and sustain its value.
However, if you use the steps that were just outlined, it could give you the peace of mind you seek when deciding if you such get out there in the housing market. We're all going through turbulent waters right now, but maybe, just maybe this could be the time to put your chips into the dream home that you've always wanted.