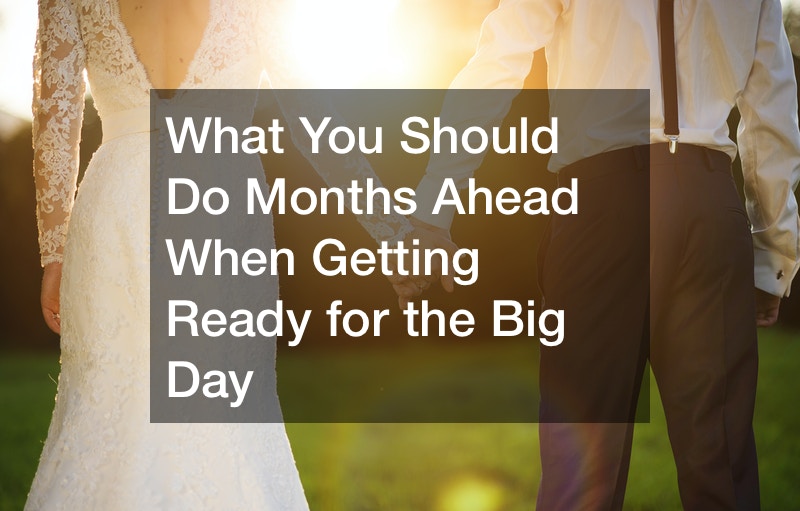 You're engaged. Congrats! Now what? Well, it's time to plan for your wedding. There're dozens of details to note when planning your wedding, and it's distressing even to know where to start. One of the valuable things you should have is a comprehensive checklist of what should be done and when before the big day.
When it comes to the days before the wedding, anxiety can be high with the possible guests' change, worrying about the weather, last-minute updates, etc. However, anxiety shouldn't be part of your wedding day. It just matters how prepared you are! So, here is a 27 step wedding planning guide to prepare you for the big day and ensure that you don't miss a thing!
Set Your Wedding Budget— and Stick to It
A wedding budget helps determine your wedding-related decisions, so it should be the first thing you settle. Sit down and review your finances to decide how much you want to spend. An ideal wedding budget costs anywhere from $5,000 to $ 100,000, but there is no limit. Once you've decided on your budget, you can split it into different categories:
Food and drinks
Photographer
Gifts
Honeymoon
Dress
Flowers

Get Organized
You can use spreadsheets, checklists, Google docs, Excel, MS Word — anything, really — to help you gather your numbers, budgets, thoughts, etc., in one place. There're also some online apps and tools that can help you keep organized.
Construct a List of Wedding Day Priorities
Sit down with your fiancée and decide on the most important aspects of your wedding. Is it specific wedding dates or the venue? Prioritize on those details as it will help you stick to your budget and help you focus on what matters most.
Think About Dates and Seasons
Choose the best dates for your big day and be flexible to avoid getting constrained when attempting to book the wedding vendors and venues. Consider some factors like if the dates are difficult for your guests to attend and the price differences of vendors and venues between seasons.
Research Your Venue Options
Be sure to investigate packages, prices, and any restrictions like minimum guest count or budget spend from several potential reception and wedding venues; even if there's a price package or venues that you like, still research other options. Consult around and find out what other venues charge before agreeing on a price.
Book Vendors, You're Comfortable With
Don't rush into any decision when booking your wedding vendors. Consider several options to ensure these wedding partners understand your vision and work within your budget. Wedding vendors are the bolts and nuts that ensure your day is ultra-memorable and everything runs smoothly. So, be sure they're people you can vibe with easily.
Choose Your Bridal Style
You can find a few resources of bridal inspiration such as Instagram, Pinterest, magazines trusty bridal sites and start researching. A good sense of your preferred bridal taste helps once you meet with potential vendors. So, researching your bridal style will help you find out what kind of a feel and look you want.
Choose a Theme
Whether it's specific wedding colors, style, or seasonal inspiration, an actual theme like the Festival Chic or the Roaring Twenties helps choose a concept to design your wedding around. With a theme in mind, it's simple to make design decisions, and generally, everything will look more cohesive.
Consider Pre-wedding Workout Schedule
So, you would like to build muscle before your D-day? Also, don't worry if you're obese because there're weight loss surgeons ready to help you lose a few extra pounds to make you feel like the gorgeous bride you've always dreamt of. You can consider cycling, skipping, jogging, aerobic, dancing, or swimming for 50-60 minutes daily. It will help you get a few sizes smaller to fit in your wedding gown.
Start Working on Your Guest List
Deciding your guest list is a complicated process that depends largely on your budget and venue. Sit down with your fiancée and key relatives to compile a wish list of your wedding guests. Probably, you'll have to make some cuts.
Form Your Wedding Party
It's a fun part because you have to ask your closest relatives or buddies to be part of your wedding day! It's hard to decide on the count because you like everyone, but just go and ask them once you narrow it down. You can have a lot of fun doing this.
You should have a couple of creative ideas and fun to give to your bridesmaid in the form of written letters, gifts, and even surprising them! You can ask them with a beautifully written letter and matching bracelets with your bridesmaid. Do whatever fits you in your way of expressing appreciation and love!
Talk to Other Married Couples
Have you ever attended a wedding ceremony that you enjoyed? By all means, you should ask that couple for insight and advice. They probably have pro tricks and tips that they learned and would be willing to share with you. Sometimes, family and friends are the best resources.
Create a Wedding Website
Avoid getting endless texts and emails from the guests by creating a wedding website to check your wedding details. Include important information like times, dates, registries, locations, dress codes, lodging, and transportation. Everything that features on the invitation cards should appear on the website.
Book Hotel Room Blocks
Probably some of your guests might need a place to spend the night of the wedding. It's wise to consider this and book a hotel block for them. This ensures your guests are in the same general vicinity. Most hotels provide a discounted rate based on the number of rooms you request.
Organize Transportation
Depending on your wedding venue, you might require transportation for the wedding party and yourselves. You need to hire a gateway car to take you to the reception. If your venue is a remote location or some of your guests are coming from out of town, you'll need to book transportation to take them between the event, reception, and their hotels. You can add your personal touch by hiring stylish limo services.
Shop for Wedding Dress and Suit
Shopping for casual wedding dresses is a process by itself. It's recommendable to search right after picking your venue and complete the purchase a few months before the big day, as this gives your ample time for alterations and fittings. Don't forget that you need outfits for any pre-wedding events like showers, brunches, and rehearsals.
Shop For Jewelry
Buying your wedding jewelry and rings is an important task on your wedding checklist because it needs a lot of patience and time. So, this is the best moment to contact your custom jewelry designer. There should be no doubt in your mind, for this special day, you need to head to the best jewelry store and order your spouse's wedding ring. Also, check on the discounts and offers that the jewelry brands are running because there's no harm in saving a few pennies.
Book Your Hair and Makeup Artist
You can feel nervous and excited when your wedding bells start ringing. It's true, particularly if you have not given much attention to your skin and beauty treatment, your hair removal and waxing schedules, your looks, and caring for your body to grow and shine on your wedding day. It needs preparation and planning by booking your hair and makeup artist. So, here are a few things to keep in mind before the D-day:
Pedicure, manicure treatments: Your hands attract a great focus on your wedding day. So, consider a great pedicure and manicure treatment for beautiful hands and nails to capture the attention of your guests towards your nails and hands.
Teeth whitening: You have to keep your smile intact during your wedding day. Consider seeking adult teeth straightening

services to help improve your smile appearance. So if you plan for a professional

tooth whitening

treatment, go for it now before it's too late. But you can still use whitening toothpaste or add baking soda to your toothpaste while brushing your teeth.

Invest in a good skincare treatment by consulting your dermatologist and taking advice on how to keep pimples and other skin diseases off before your D-day. You can schedule a chemical facial and laser treatment, test for allergies, and go for skincare masks. Apart from your facial skin, check on your entire body skin as well. Use a good body scrub to remove dead skin, and use a butter lotion to moisturize it.
Create a Registry
You should create a wish list of potential gifts you would like to receive from your guests. If traditional gifts aren't your thing, you can create a more creative registry idea to fund things like a down payment on a new house or your honeymoon. The registry information is displayed on your wedding website, not on the invitation itself.
DIY Strategically
DIY wedding décor elements are cost-effective and add some incredibly personal touches to your big day. But don't get overboard or end up with more work that you don't know what to do with. Plenty of DIY tasks is done in advance, like welcome bags or favors, etc. But, things like wedding day food and florals need professional help.
Hire an Officiant
Finding the right officiant for your wedding is a deeply personal journey for most couples. Whomever you choose not only dictates your ceremony but also ushers you into your marriage and sets the tone for the rest of your lives together. When booking a clergy member, it's important to do your research, get recommendations or reviews, and ask the right question if personalization is allowed and if they're involved in obtaining a marriage license.
Understand What You Don't Want
Your big day is all about the two of you! If some traditional aspects make you uncomfortable, outdated or aren't your style, don't include them in your event. Traditions are prettier if they're meant to both of you.
Book Your Honeymoon
Just three months before your wedding, you should book everything from hotels to flights for your honeymoon. Who knows, you can just be lucky and get a deal that proves to be a real deal for your money!
Remember to Send the Save Dates if Necessary
Save the dates are important if your big day is on public or bank day or if most of your friends live abroad. These can be paperless, informal reminders sent via email with a follow-on text message to those who might not often check online. If you want to send the save dates, use your wedding website for popping up details on your guests to find out if they'll be available.
Book the band
Music makes your big day a hit with your guests, along with the food and drinks. Like other popular supplies, wedding bands are booked out fast, particularly for bank holidays and weekend weddings in the summer. Research your preferred style and narrow to two or three gigs to see a band or two and find out what they're like. Consult your family members and friends, get some recommendations, and then book them.
Make it Legal
Don't forget to get your marriage license during these endless small details and crazy planning. Start gathering and researching necessary documents earlier, but remember that a marriage license is valid for a couple of months — and a destination wedding has its stipulations — so plan accordingly.
Relax and Enjoy Every Single Moment Leading Up To Your Wedding Day!
Now, this is the most important thing: relax and enjoy every moment leading up to your wedding day! We're sure you know that time has flown so fast since you got engaged; now imagine how fast your wedding day will be. Lean on your vendors and loved ones to ensure everything runs smoothly and believe that everything you've planned will create your dream wedding day. Have fun, avoid dwelling on the small stuff, and enjoy every second you spend with your loved ones.
Just After The Wedding
The big day is finally over! Well, well, we hope you're happy now. All the pain and planning has finally paid off with a successful wedding. But, you need to wind up on a few things before heading on your honeymoon. Ensure all the rented clothe are returned! Well, hire dry cleaning services and make sure all the dirt has been removed.
We hope you won't be stressed over creating your wedding checklist. Rather use this one to tick off everything in time and relax to finalize your last days of singlehood! We hope our 27 step wedding planning guide offers you a great outline for everything you need to plan your D-day. And just like that, you'll get married and off on your honeymoon. Enjoy your big day!