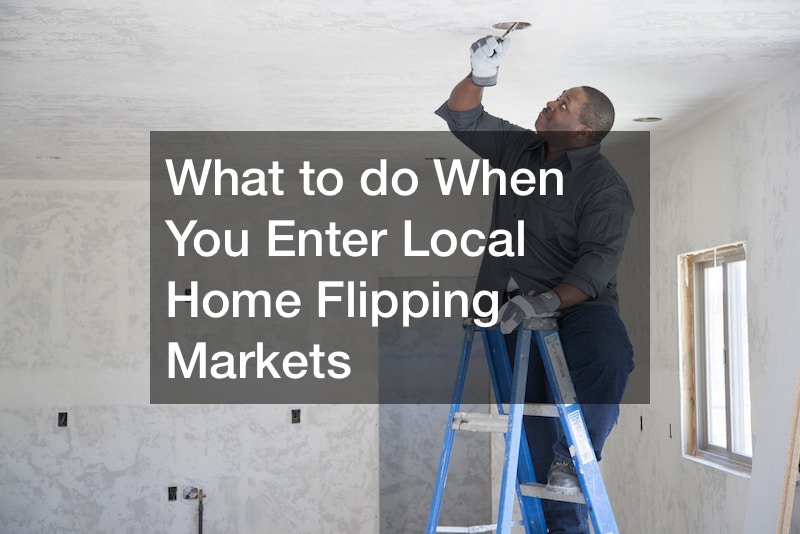 Don't flip out on flipping a house! In fact, flipping markets are all the buzz and have proved to be a lucrative industry. If you love the process of reconstruction, décor, design, DIY, and are not afraid to get dirty while you work, then house flipping might be in the cards for you.
What Exactly Is House Flipping?
Flipping markets are all about turning old, run-down properties into sparkling, upmarket, good-as-new estates. Properties are often bought at a low asking price because some require a lot of work and fall apart. But those who invest take it in their stride and have the vision to make more money from the dilapidated property once it is all flipped and ready to resell. Then, rinse and repeat the process and make a profitable income.
You don't have to be a tradesperson to be in the flipping markets business, but if you have a passion for design and remodeling and a knack for DIY then you can do it. Oftentimes, people create a team of tradespeople and then members run the operations, source the properties, and treat it as a well-oiled machine.
What Are the Benefits of Flipping Houses?
There are loads of benefits, and the rewards are well worth the effort, time, and challenges of flipping markets. The following are just listing some of the many advantages of flipping houses.
Make good income in terms of your return on investment
p>If you flip houses, you can make good money because you're buying at a low rate, but after you've fixed the home and its ready to sell, you can sell it for much more than the purchase price you've paid.
You can make money to expand your reach to prime areas
The more money you make, the more you'll be able to expand and buy properties in higher-income areas. Given the prime locations, you can sell those flipped houses for a bigger fortune.
You're helping communities buy better homes
Since you've already flipped the property, you are allowing the next buyer to invest in something that is good for a long time, having fixed many issues and got the required approvals to do certain work on the property.
Increase the area's value
With better quality homes that look excellent and have the quality finishes needed, you help increase the neighborhood's property value. As a result, it increases the location's value, too, making it a more sought-after area than it was before your house-flipping projects.

Check the Condition of the HVAC
One of the things when tackling flipping markets is the conditions of items in the home. For instance, plumbing and in this case the air conditioning systems. HVAC systems play an integral role within a home, and when the system fails, it must be repaired otherwise, it won't function efficiently. With inefficient functionality, the system then uses more electricity, doesn't filter the air properly, and isn't good anymore. You can partner with ac companies to repair and replace any HVAC systems in the flip properties you're working on.
Check Your Water: Add a Borehole to Your Property
Make your home not only energy efficient but also water efficient with your own borehole on your property. Using a self-sustaining water supply can help you save on the utility bill by lowering your reliance on the state to provide water supply. You may also install water tanks to catch the rainwater and store it. This water is excellent to use in and around your home. Water well driller services in the United States cost may vary from one state to the next.
If you can't have a water supply system on your premises such as required to drill and create a borehole, then you may find water tank services beneficial for your course. Search for local companies in your area for water well drillers. Get a few quotations to see which company is best for your needs in terms of cost and availability. Properties that have water-efficient solutions can sell at a higher rate than those that don't.

Call in a Plumber
Plumbing is an integral part of the home, and ensuring that the plumbing is on point takes the help of experienced plumbers in your area. Plumbers can help with drain cleaning and do a full inspection to see if any plumbing work requires attention. Having a plumber on your team is always essential when house flipping.
Inspect for Mold
Mold is an issue that can persist and continue to get worse should nothing be done about it. Mold can continue to multiply and attach itself on various surfaces, leading to a musty, damp smell and a place looking dirty and old even when it isn't so. Attic mold remediation is important when you're looking to restore your home from mold. Mold remediation ensures that all the mold is removed and things put in place to prevent future growth.

Fix up the Basement
The basement is an important part of the home, and as the additional space, it can truly increase the value if it is done nicely. Most people don't put their basements into full use, which often becomes that extra space that everyone has forgotten about. But a capable and well-maintained basement can serve as storage, extra living quarters, a hobby room, and so much more. When flipping the home, tackle the basement to ensure that the new owners can put it to full use.
Basement floor crack repair work can help to ensure that your basement is insulated well and that the home is doing a good job of keeping the family cozy year-round. You can get quotes from the local companies in your area, and if you find ones that you can depend on, then you can use them to help with all basement repairs of your flipped properties.
Smart and Efficient Upgrades
Because you're flipping the home intending to resell it at a higher asking price, you want to make sure that the home is worth it to the buyers. For example, you must improve the way it looks now and try saving by doing smart tweaks that will give a lasting positive impact. For example, changing all the lighting fixtures to go from old and outdated to being on point and trendy.

The Flooring Can Be a Resounding No or a Yes Please – We'll Take It
Did you know that the floors give a big impression on a home? Floors tend to pull everything together and tie all the décor and styling into one space. With attractive floors, it tends to perk everything up even more.
House flipping markets are known for tackling the floor; in this case, you can tear out old carpets and replace them with new ones or hard flooring. Sometimes, people have ripped out carpets only to find gorgeous original flooring that's been hidden all the time. You may salvage the flooring, giving it a good deep clean. Sometimes, staining the wood makes a wonderful change, too.
For flooring, many synthetic materials are longer lasting but can mimic the authentic look of wood. You can use vinyl flooring or tile. Still, tile doesn't give that same soft and homely feel as hardwood or vinyl does. Hardwood flooring can set you back because it is quite expensive. Still, you can install it in a section of the home, maybe the living room. Hardwood flooring is known to increase the ROI of a property substantially, so it's an investment well worth it.
Check for Asbestos
Asbestos has long been rooted out and banned because of its hazardous nature. When the asbestos fibers are disturbed, they disperse into the air and are breathed in. The tiny fibers can settle deep within the tissue and walls of the respiratory system before they become a visible problem for someone.
Before the 1950s, asbestos was still hugely used in manufacturing and served as insulation material, thermal and electrical insulation, and structural reinforcement in the walls and ceilings of buildings. Since discovering the detrimental health dangers of asbestos, which include several forms of cancer, including lung and colon cancer,
Having a property checked through with an official asbestos inspection can help rule out the risk of restoring a property with traces of this material. The team must wear protective gear and handle asbestos safely. Sometimes, special teams help in the flipping markets with asbestos removal from properties.
Call in the Roofers
As part of house flipping, the roof is also an aspect that needs to be addressed, as it is vital to the entire home structure. You need to address the roof if you find issues like curled or broken roof shingles. You may also discover dampness or leakage in parts and water stains on the ceiling; in this instance, rain might be coming in. These signs are surefire signs that your roof needs either repairs or, depending on how bad the damage is, it might need complete replacement.
Being in the home flipping markets requires you to work with many contractors, and it is also best if you've made up a team of tradespersons to assist. For roofing services like repairs or replacement, you can consult your team of roofers to assist here. Once a roof looks good, it instantly improves the overall appearance of the home and the curb appeal, which is essential and adds to that must-have sale factor.
The roofers may also inspect the attic, if the property has one, to determine if any additional issues might later  lead to insulation or water leakage problems.
Insulate the Home
Insulation plays a crucial part in any building; it provides weather resistance, comfortable living, and ease when staying in the home. The house you're flipping might already have had insulation, as does every newly built property. But, with time and weathering, the insulation loses its ability to work consistently and thus causes issues like increased energy use. Energy use is increasing in summer as the heat doesn't seem to effectively disperse from home, and cold air constantly comes through in winter. For all these unstable temperature control issues, there might be a leading cause of this, which is ineffective insulation.
Again, working with your team of tradesmen, you can talk to the team responsible for construction and insulation, and they can assist. It may be that the roof might need sealing, but if you've installed a new roof, you can rule this area out. There might be leaking in the basement or in other parts of the home. A spray foam insulation company can help you get the building ready with perfectly insulated living spaces so the next family who lives there will live in comfort during any season.
The benefits of proper insulation include lower energy costs since you can now control the temperature, the systems work, and the insulation is on point. You will thus save on your monthly utility bills thanks to the lowered cost of energy utilities. Your home won't need additional maintenance to keep mildew or mold under control. Your home will also look much newer and in better shape when the insulation and heating and cooling systems work well.
Give your Home a Fresh Paint
Whether you're going with house painting on the inside or painting the outside, one cannot argue with the fresh and bright new look new paint has on walls, especially on the flipping markets. Even an aging home becomes twice as young with a new paint coating. You can easily do this as a DIY project, but painting the entire home, especially the exterior, can be very challenging. You may want to consider hiring help from paint contractors to assist.
Painters have the tools and expertise to do the job efficiently. You might have to dock out some funds to pay them, of course, but it will be worth your while, seeing as they will do all the hard work for you. Plus, the job will be professionally and beautifully done.
Choosing upbeat colors is always a nice touch to any living space. Still, many people also enjoy neutral colors to stay on the safe side. You can include a few splashes of color to the décor and patterns. Or go for monochromatic effects, as this has also become quite the trend for contemporary interior designs and accents.
If you're in the home flipping markets, then you know just how stressful taking on a new project might be. At the same time, you also know the joys and worthwhile sense of relief you may feel too once a job is complete and well done.