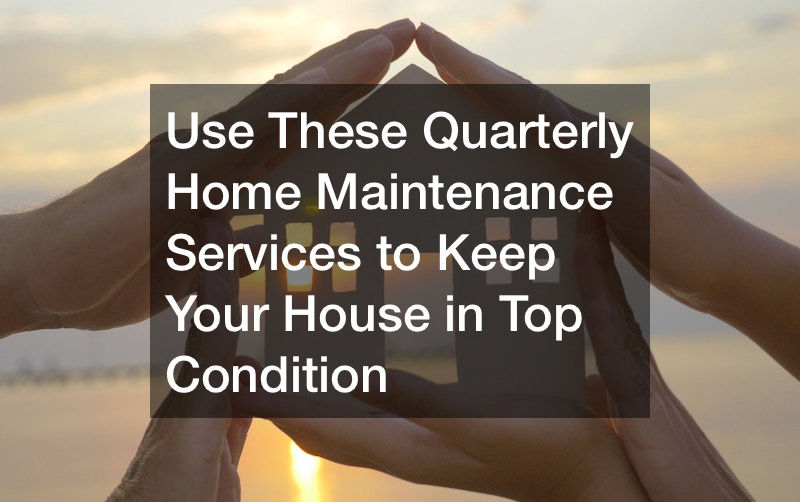 Did you know that there are quarterly home maintenance services that can be completed as a homeowner to help keep your home in the best condition possible? By handling things like having a roofer over to do an inspection or with routine pressure washing services, you will increase the value and boost the curb appeal of your property instantly. However, knowing what to do exactly is the challenging part. Review this list to discover what you can do every few months to keep your residence in tip-top shape all year long!
Routine Roof Inspections
Have you recently noticed that there are problems with your roof that you've never noticed before? As part of your quarterly home maintenance services, hiring a roofer to come and do an inspection is always at the top of the list. Your roof is the first line of defense you, your family, your property, and your belongings have against the outside elements. If your roof is in poor shape, you're putting everything at risk. Not only is there a safety concern with a damaged or worn-out roof, but you're also likely to lose energy and money if your roof is in poor shape. This is one of those quarterly home maintenance services you can't handle alone. Call up an expert, and in most cases, they will come and do an inspection for free.
If you have a professional roofing company over to look at your roofing system, you should take advantage of those that offer gutter inspection too. Your gutters need to be cleared away at least once, preferably twice each year, to ensure the water is draining out and away from your home's foundation. If the roofer offers a gutter cleaning service, you could save by getting both services performed simultaneously. If they don't, at least they can tell you what condition your gutters are in so you know if it's time to have them cleared out.
Clean Out the Garage
It doesn't matter how hard you try and keep things clean; it seems like every couple of months, the garage is so full of stuff that you put it there to get out of the way, and your car doesn't even fit anymore. That kind of defeats the purpose of having a garage in the first place, doesn't it? With an affordable garage storage solution, you can get organized. There are tons of options on the market, and all you have to do is figure out what's right for your space. Incorporate features like shelving, hooks for hanging larger objects up and out of the way, and cabinets so you can keep some items you'd rather not look at out of view.
Sure, that all sounds great, but you don't have the time, or maybe even the physical ability to handle such a task. That doesn't mean that you should ignore it. There are plenty of companies out there that provide this type of service for homeowners, and likely some right in your area. In many instances, if you have a housekeeper, they will take on a project like organizing your garage for you for an additional fee. Whatever you decide, be sure to check around so that you can ensure you're getting the best price.
Have Your Landscaping Updated
Most homeowners don't mess around with trees, bushes, and other landscaping features unless something goes wrong. However, tree maintenance should most definitely be on the list of quarterly home maintenance services. There could be trees overgrowing on your property and starting to reach dangerous locations. There might be roots getting too close to the foundation or limbs and branches reaching further toward the roofing system or windows. While it seems okay right now, a tree that continues to grow into these parts of your property can cause severe and costly damage. It goes without mentioning that with routine trimming and cutting of overgrown branches and limbs, your surroundings will be healthier and therefore look better automatically.
When you have a professional tree removal company on your property regularly, you can also quickly determine if some diseases or infestations could be causing problems around your yard. By catching these issues right away, you will avoid having to deal with a much more expensive tree service in the future. Cutting down trees, especially large or inaccessible ones, can be very expensive, and you want to avoid it if possible. Ask your tree care provider for the details on how to check your trees for potential problems.
Hire an Exterminator
Regardless of where you live, sometimes come around when you will need to eradicate insects or pests from your home. During your quarterly home maintenance services check, if you come across an infestation, you have to do something about it right away. Chances are you're not going to find a problem every time you do your home inspection, but if or when it happens, you'll want to call a professional for bug extermination. Depending on the type of insect problem you have, only an expert with the right tools, equipment, and methods will be able to come up with an effective and long-lasting solution to the issue.
There are some situations where you might be able to handle your smaller insect problems with over-the-counter sprays, powders, and pesticides. Think about when you're walking around your property in the summer months. Are there a ton of mosquitoes wreaking havoc on the time you're trying to enjoy the outdoors? There are several options for treating your lawn and the surroundings so that these pests are no longer attracted to your lawn. Make sure you check the information label on the product you choose to ensure it does what you're looking for. Also, review the directions carefully so you can be confident you're following the right processes.
Check On All Plumbing Systems
Without question, your plumbing systems are one of the most essential features of your home. Inspecting and assessing the plumbing in and around your home is one of the quarterly home maintenance services you never want to skip over. If there is some sort of repair or replacement required, you want to handle it as soon as you notice it. For instance, if you have a slow leak coming from your sink or toilet, it may not be noticeable until you're looking for it. If you find it during these routine inspections, you have the opportunity to get a repair done right away. Then, you won't be looking at many more catastrophic situations when something finally breaks or gives out.
During the regular checks of your plumbing, you may want to consider using a septic tank cleaner solution if you don't have city water. Over time, your septic tank will fill up, and it can become clogged or even overflow, causing a messy situation in your lawn. To avoid it, regular use of these cleaning solutions will help to keep that problem at bay. If you're not sure what type of system you have or if you need assistance with the cleaning of your septic field, it's always best to leave it to an expert.
Get a Foundation Inspection
The foundation is another vital feature of your home, and you certainly do not want to overlook it when doing quarterly home maintenance services around your property. This is one of the jobs that only specialized experts can do properly. A local concrete contractor in your area will likely come and do an assessment for free if you think you're having an issue. Even if they charge a small fee, you want to have confirmation and peace of mind that your foundation is rock-solid all year long.
Have a Professional Electrical Assessment
Electricity is a dangerous system if it's not operating efficiently. During your quarterly home maintenance services check, you can do a visual assessment to ensure everything is where it should be, and there are no frayed, split, or broken wires hanging around. If you do find a problem, do not try to attempt to fix it yourself. You need to call an electrician business and have a licensed and certified electrical engineer come and assist you. Some actions that you can take if you find problems with your electrical system are to shut off the breaker box and keep people and pets clear of the area while you wait for help.
Consider a Fresh Coat of Paint
Putting a fresh coat of paint on the interior and exterior surfaces isn't necessarily something you'll want to do every four months. However, you can select one feature in or around your property to paint at a time, and the update will make a world of difference to the condition of your home. For instance, in the winter or spring months, it's common for homeowners to work on the inside of their houses. So, pick a bedroom, kitchen, bathroom, or any space that looks dull and outdated, and slap a fresh coat of paint down. If this is a project you think you can tackle yourself, fantastic! Some satisfaction comes with being able to make your home improvements.
If you'd rather leave it to the experts, call a home improvement company and get an estimate. You may be surprised at how affordable something like this is to have completed. For the price, it's an investment that pays you right back in appearance and comfort.
Make Exterior Repairs
If your property has an exterior staircase leading up to the house or even to another outbuilding, you should inspect them during your quarterly home maintenance services. The upkeep of these features is not only important for the aesthetics of the property, but it's also crucial to ensure they are in good working order for safety reasons. Every few years, even if there are no problems with your staircases, you should consider refinishing or repainting them. Even though it's a small part of the property, by making a quick and affordable update, you can change the overall appearance. If it's not something that you can handle on your own, there are plenty of home improvement companies out there that will help you get the job done for a fair price.
Invest in Your Property for the Future
Have you been putting off minor problems around the property because they aren't affecting how your daily life operates? Now is the time to get them taken care of. Something as simple as putting back a slat in a fence or a fix garage door operational issues will help ensure that your home's exterior is always looking the best it possibly can. It's a small, quick project that will make a world of difference when it's done. All you'll be asking yourself is why you didn't take care of it sooner!
By having these quarterly home maintenance services completed routinely, you will not only gain in the value of your home, but you'll save money with a more efficiently operating property. Even though some of these items may seem simply cosmetic, others are costing you money without you even knowing it. Your home will likely be the biggest investment you ever make in your life. Don't you want to do what you can to keep it protected? That's what these quarterly home maintenance services will do for you. Start checking them off today, and you'll soon notice the difference each truly makes. Before long, they will become more regular and a part of your normal home improvement tasks.