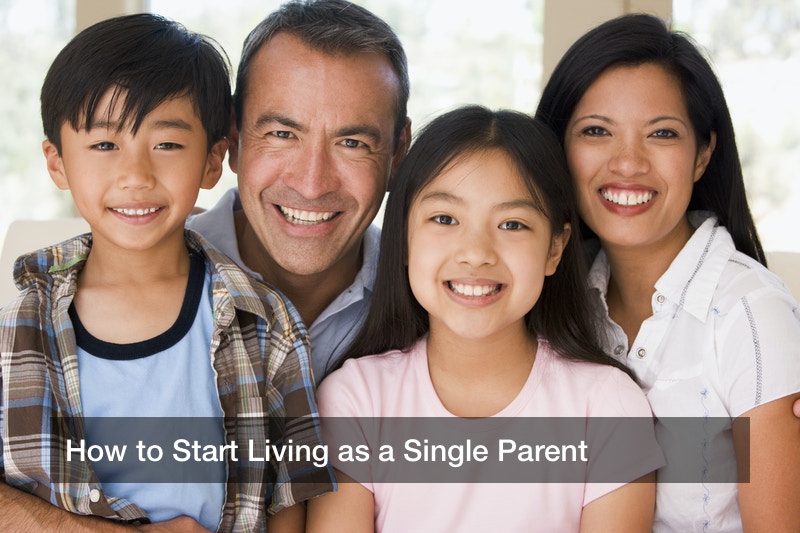 Divorce is a hard and stressful time, but living as a single parent can be even more difficult. After the divorce, you may be presented with new challenges like home buying, moving, and adjusting to life as a single parent. Without a partner in parenting, all the responsibilities and decision making involved in parenting fall on you, and you alone. Living as a single parent can make you feel guilty and insecure about your parenting decisions. Case in point, living as a single parent can become incredibly stressful, so it is paramount to learn coping skills and techniques to not let the pressure rub off on your child.
It can be helpful to know that there are many more just like you who are divorced or living as a single parent. In fact, single parent households are becoming increasingly more common. About half of all marriages in the United States end in divorce and about 12 million households are headed by a single parent. If you feel lost or are wondering where to start, here are a few tips on how to get a divorce and start living your life as a single parent.
How To Get A Divorce
If you have already decided you want a divorce, the first and most important step in getting a divorce is hiring a divorce attorney before entering into any separation or divorce proceeding. Everyone's situation will be unique, so it is important to consult with a lawyer who can tailor their counsel to your own circumstances. Some steps of the divorce process and topics you should expect along the way are gathering documentation, separation agreement, summons and counterclaim, discovery, division of property, financial support, child custody, visitation rights, and finally a settlement or trial. If you are still unsure whether or not you want a divorce, you have many options available to you, such as therapy groups, mediation, or taking a vacation together.
Do I Need A Lawyer?
Many people are intrigued by the idea of representing themselves or doing all their own legal work. This is commonly referred to as Pro Se, a Latin word that means "for oneself." Oftentimes, people are attracted to the Pro Se approach because they believe it will save them time and money.
However, the divorce process can become incredibly complex. If children are involved, a divorce will usually involve issues of custody, support, and access. This is not to mention any intricate transfers of property and the tax implications that come with that. Even if you plan on representing yourself or doing all your own legal work, it is a good idea to consult with a family attorney or team of child support lawyers to at least have an understanding of your rights throughout the process. Since this can be a lot of legal work to understand and complete on your own, you may decide to retain legal counsel throughout the entire divorce process.
If all the following circumstances apply to you, you may be able to process your own divorce entirely by yourself:
You do not have children
The divorce will be uncontested
You have been married for only a short time
You are both employed and are able to support yourselves
You can prove grounds for your divorce
You are in agreement about the division of assets and property
You have the emotional and mental strength, persistence, and attention to detail to take on such a difficult and tiresome task
If you decide you need to retain legal counsel, a family law firm can assist you with child support, spousal support, and child custody. However, if you decide to go the Pro Se approach, there are many resources available to assist you. You can check with your local adult education center, community center, or community college to find out if they offer courses on divorce.
There are also some other low cost options out there available to you, such as paralegals or a low cost legal clinic. For a fee, a paralegal will review your separation agreement to make sure everything is in order and complete and review any other forms before they are filed in court. If you have already discussed your divorce case in detail with an attorney and are aware of all the legal issues involved, you may be able to get away with just using a paralegal service. A paralegal is not qualified to provide legal advice, so be careful not to overlook certain issues if you are relying on a paralegal.
If you have decided to go the Pro Se route, the first step you should take is contacting the local court where you will be filing for divorce and ask for a copy of the court's check list of documents and information that will be required throughout the process. If you and your spouse created your own agreement for separation, you should each have a lawyer to review these documents before they are signed. This should be done even in the case of an amicable or straightforward divorce. It is also recommended to have frequent meetings with your lawyer during mediation for child custody and negotiating with your spouse.
If you find yourself in a fairly straightforward divorce, but you still have disagreements over a few issues such as child custody, support, and property division, you could benefit from hiring a collaborative divorce lawyer. A collaborative divorce emphasizes problem solving and negotiation over the arguing and dispute that usually takes place in a courtroom setting. Both parties have to be willing to participate in a collaborative divorce for it to work effectively. If your divorce negotiations turn bitter or you suspect that your spouse is not negotiating in good faith, it is recommended that you speak with a lawyer, who may have to undo what was done prior to you speaking to them.
Living As A Single Parent
Once you are through with the divorce, the next step is to begin living as a single parent. These tips will help you cope with the special challenges that living as a single parent present.
Developing a Network of Support
Raising kids can even be difficult in completely normal circumstances, let alone as a single parent. A network of support can help you cope with these challenges and ease the stress of living as a single parent. If you are experiencing an unbearable level of stress, it can help to know that you are not alone. About one third of all people who visit a doctor due so because of stress or issues related to stress. To build a network of support, turn to friends, family members, and other single parents for support. A support network provides an outlet for venting and advice to help you navigate living as a single parent. A support network will help you stay relaxed and sane, which will greatly benefit your children.
A support network is not just for you as a single parent, it benefits your kids as well. The adults in your network of support can also serve as secondary role models for your children.
Taking Care of Your Finances
Finances can be one of the largest sources of stress for single parents, so it is important to get a handle on your finances early in order to reduce your family's level of anxiety. To begin organizing your finances, consider your existing debts, and come up with specific, realistic goals for reducing them. Creating a budget and learning about long term investment options such as retirement funds and college are great ways to get a handle on your situation and begin preparing for the future of your family. Start small by making whatever payments you can towards your debts and slowly increasing the amount of money you put towards your retirement and your kids' college funds.
If you begin thinking about your finances in this way, you will likely experience a significant decrease in your family's stress level. Stress can actually have many negative effects on your health, including a weakened immune system, high blood pressure, heart disease, and diabetes. A weakened immune system can lead to more frequent colds and flus. In this case, consider trying some home remedies for sore throat pain. No matter how much money you can afford to put towards these areas, organizing your finances will go a long way towards improving your family's well being.
Establishing a Routine
A consistent routine is crucial to living as a single parent. A family schedule should include time for homework, meals, family time, and bedtime. Once you establish a consistent routine, your family will know what they can expect everyday, which will help you stay focused and organized. A planned schedule will reduce the amount of time spent planning dinner or scrambling to pack your kids' lunches in the morning. Of course, there will always be events or homework assignments that you forget about, but a routine will go a long way towards reducing stress and improving your sense of security.
Spending Quality Time With Your Kids
In the midst of all the chaos of living as a single parent, including work, chores at home, and school events, you may forget to fit in enough time to spend with your children. In fact, spending quality time with your kids should become a part of your daily routine. Whether the time you spend together is simply relaxing or doing an activity together, this is time spent building your relationship. Try reading a book, going for a walk, or playing in the backyard. Before playing in the backyard, make sure the area is safe. Contact a tree removal service to trim or remove any worrisome trees. After spending time together, you and your kids will feel re-energized and reinvigorated to take on your other responsibilities.
Making Time For Yourself
Between spending quality time with your kids and taking care of all your other responsibilities, it is important to remember to set aside time for yourself. By setting aside just fifteen to twenty minutes everyday to focus on yourself and your own well being, you will find yourself more energized and efficient during your other daily tasks. When this is the case, you will be able to give more to your kids, your job, and your other relationships. This can be in the morning before your kids wake up, during your lunch break, or at night after your kids go to bed. You can try exercising, reading a book, or taking a warm bath. A recently renovated bathroom with a soaking bathtub and granite bathroom countertops will make for an even more relaxing experience. The time you make for yourself should relieve stress and help you feel reinvigorated.
Being Honest
Honesty is important, especially when living as a single parent. This is important when discussing your former spouse with your children. When your kids are of an appropriate age, it is important to discuss why you and your spouse got divorced. You do not have to include every detail, but it is important not to lie about your past relationship with your former spouse. It might be because they had to pay one too many bail bonds to get out of jail or because they cheated on you. Breakups aren't ever easy.
This also refers to being honest about the prospect of getting back together with your former spouse. If there is no chance of this happening, it is important not to lead your kids on. You should explain why you and your former spouse are not good for one another.
Asking for Help
Once you have built a network for support, it is okay to lean on them and ask them for help every now and then. Examples include carpooling to school or needing a quick babysitter so you can attend an appointment. If you find that your responsibilities are becoming too overwhelming, you can look for help outside of your friends and family as well. There are certain jobs such as mowing the lawn, raking leaves, and shoveling your driveway, that can be outsourced to a teenager in the neighborhood. This can save you valuable time that you could be spending with your kids.
Staying Positive
Perhaps one of the most important and overlooked tips to living as a single parent is staying positive. This is also one of the most important lessons to instill in your children. Make a concerted effort to stay positive around your kids. This includes making positive statements and smiling often.
Living as a single parent can be an incredibly challenging and stressful time. However, most single parents will tell you it is also a rewarding experience. By following these tips for living as a single parent, you can cope with the challenges, reduce your stress level, and prime your child for success.