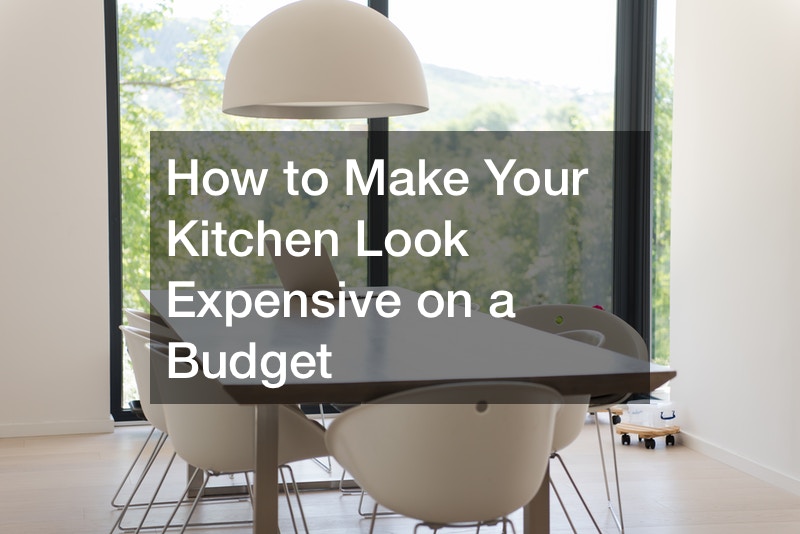 The kitchen is undoubtedly one of the most important spaces in your home. This is why it's a good idea to be always on the lookout for new ideas to improve how it looks and how it functions. But what if you are on a budget? Are there ways to give your kitchen a sleek and modern look without parting with too much money? Fortunately, there are a lot of ways to improve how your kitchen looks on a budget. Now let's look into how to make your kitchen look expensive on a budget.
Upgrading Your Light Fixtures
If you are still using incandescent lighting in your kitchen, then it might be time for a change. At least that will give you a good starting point if you are looking to upgrade the look of your kitchen. This is one of the best ideas when it comes to how to make your kitchen look expensive on a budget. Your kitchen will literally transform under brighter hanging lights! Plus, modern lighting options come in a variety of shapes, sizes, and styles. This makes them ideal for adding some personality to your kitchen space.
So which lighting options should you go for? If you want a glamorous kitchen, consider getting some lower-hanging lights. You should also check out some floodlights and sconces for the darker corners of your kitchen. As you are looking for lights, you must also keep in mind that energy efficiency is as important as looks. The best lights for better energy efficiency are LED lights. While these may be more expensive, they will last a long time, and they are very energy efficient.
You should group your kitchen lighting into several categories. You should start with general lighting. A lot of lighting options fall under this category. General lights include pendant lights, chandeliers, and recessed lights. These lights are usually the centerpieces in your kitchen design. You can hang your general lights over a kitchen island, or if you don't have one, you can just install them in the middle of the room. As central pieces, general lights provide lighting for the entire kitchen space.
Apart from general lighting, you also need accent lighting. Accent lighting is meant to be used for decorative purposes. They are perfect for aethetics as opposed to brightness. If you have any paintings or art in your kitchen, you can use accent lights to create focal points around them. Accent lights are also known as display lights. You can install them inside your cabinets, on top of shelves, and anywhere else where they can add to the existing decor.
Another type of lighting that can make your kitchen look expensive is under-cabinet lighting. This is quickly becoming popular in modern homes. Cabinet lighting is a great task lighting option, and it's perfect for activities that take place on top of the countertops. Under-cabinet lights can deliver a pleasing, aesthetic look while at the same time maintaining a soft, helpful glow. When choosing your under-cabinet lights, you will need to take into consideration the specific design of the kitchen cabinets.
Paint Your Kitchen Cabinets
Do you still have those dark, unattractive kitchen cabinets? If you don't have money to upgrade and get new cabinets, there are things you can do to improve the look of your kitchen. Paint is great for cabinet transformation. Kitchen cabinet refinishing can be a great DIY project to attempt. However, you should only paint your cabinet on your own if you know how to go about it. If you have no painting experience, it might be a good idea to leave it to the pros. Since you are going for an expensive look, you will need the cabinets to be painted properly.
It's amazing what a fresh coat of paint can do for your cabinets and the general look of your kitchen. To achieve an expensive look, you need surfaces to be clean and bright. So how do you go about the process of getting someone to paint your kitchen cabinets? One thing you should keep in mind is that the cabinet painting services is a niche business. This means that not all house painters will be able to paint your kitchen cabinets properly. Unfortunately, that doesn't stop them from telling you that they can do it for you. The idea is to find someone who does it regularly. That way, you can rest assured that you will likely get a good outcome.
It would be sad to pay someone a lot of money; then, they make a mess of your kitchen cabinets. There are a lot of things involved in cabinet painting that, if someone hasn't done it before, they will likely ruin things for you. For instance, something as simple as forgetting to number cabinet doors so you can remember where they came from can lead to a disaster. Even if the cabinets are painted well, it's important for doors and drawers to go back to their original positions.
If you encounter a painter who says they can paint your cabinets for you, the first thing they need to show you are pictures of cabinets they have painted before. Photos can show you before and after transformations of cabinets they have painted in real life. You should even ask them for a sample door that they painted. While photos will show you entire kitchens, a sample cabinet door is key if you are looking to hire a painter to work on your cabinets. Pictures hide a lot of things that sample cabinets do not.
Create the Illusion of Higher Ceilings
Are you looking for ideas on how to make your kitchen look expensive on a budget? Look no further. Raising the roof of your kitchen can be a great move if you want it to look more expensive. However, the idea here is to create the idea of an expensive kitchen on a budget. So how do you go about making it seem like your ceiling is higher than it actually is? Well, there are several ways to achieve this. The first thing you can do is to raise your window treatments. You can also raise your window panels if you want to create an illusion of height. This will give your kitchen a grander feel.
Window treatments are often underrated, and most people are unaware of the impact they can have on your kitchen space. If you aren't looking to spend too much money on window treatments, you can simply add fabric to your panels. All you need to do is find the ideal complementary fabric and take it to the local seamstress. After a little work, the fabric should be ready for your windows. Dressing up your bare windows can give your kitchen an instant touch of class.
There are several other window treatments to use that are not fabric. While fabric will work in most situations, other treatments will not. When looking for the best window treatments for your kitchen, there are several factors you need to consider. For instance, you should think about the shape and style of the windows. You should also consider the amount of sun that your kitchen windows receive. Direct sunlight tends to fade the majority of fabrics. If you have too much sun coming through your kitchen windows, you may need to get beautiful window treatments that also have protective qualities. You must never be too focused on your kitchen looking expensive that you forget about functionality.
Another important thing to consider when picking window treatments to make your kitchen look a bit more expensive is privacy. If you live in an area where you are not able to see your neighbors from the kitchen window, then there may be no need to get treatments that boost privacy. However, if you stay in a densely populated area, privacy is a factor to consider.
How About Some Marble Magic?
Wait a minute. Isn't marble super expensive? You are not wrong; it is. However, we aren't talking about going all the way here. Almost everyone knows that marble is expensive. This means having it in your kitchen will give it an expensive look too, right? But still, that doesn't solve the issue of cost. Let's address that now. If you want to harness the elegance and expensiveness of marble but you are on a budget, there are ways to do so.
Instead of going all out and replacing all your countertops with marble, you can just add small hints of it in your kitchen. This is one of the best ideas when it comes to how to make your kitchen look expensive on a budget. If you are not sure how to go about it, a kitchen countertop contractor can assist. For instance, you can install a pre-cut piece of marble in your baking area. Apart from that, you can also use marble tiles to create an eye-catching backsplash. How about replacing some of your floor tiles with a few marble ones? These are all ways to use marble on a budget. Even if it doesn't have the same effect as having countertops that are entirely made using marble, you will still be able to make your kitchen look more expensive.
The good thing about marble is that it works well with the majority of color schemes. Even if you have lots of steel appliances in your kitchen, they will fit right in and make your kitchen design look more expensive. The marble-adorned kitchen is super luxurious and incredibly beautiful. When used in combination with solid surfaces, a touch of marble can make a serious impact. The ideas are endless when it comes to how you can throw in pieces of marble in your kitchen. How about using pre-cut marble to create a shelf where you can place your best glassware above the kitchen counter?
Pre-cut pieces of marble are a lot cheaper than buying to spec. You will most likely find some at your local hardware store. Most hardware stores and interior building products service providers keep off-cuts that you can easily incorporate into your kitchen. If you are lucky, you can even find white marble. It creates a super polished kitchen look when used with brass brackets. It's an easy and cheap way to make a really bold statement.
A Fresh Coat of Paint
Paint is the perfect answer to the question of how to make your kitchen look expensive on a budget. We mentioned paint when we talked about how you can use it to transform your cabinets. How about transforming your kitchen altogether with a fresh coat of paint? The idea here is to find colors that will make your kitchen look expensive and elegant. If you have a modern kitchen, you can go for dark colors. For instance, greys and blacks work wonders with modern kitchens. They can easily make your kitchen look lavish and extravagant.
If your kitchen is small, you can hit two birds with one stone when you repaint it. There are colors like white that reflect light and make your smaller kitchen look bigger. To make the kitchen look even more expensive, you can complement the fresh white paint with some wood and metallic highlights. If you don't have plans to paint the entire kitchen, you can just add a feature wall. It's a great way to add value to your kitchen. If you still don't want to paint, textured paper can do the trick as well.
Throw in Some Art
Another simpler way to achieve this is to display some art. This is one of the best ideas when it comes to how to make your kitchen look expensive on a budget. Art makes your space feel thoughtful. It will also start feeling like an extension of your home instead of 'just' a kitchen. Of course, since you are on a budget, you won't want to part with a lot of money, especially considering that the kitchen is a mess-prone area. You can simply get some digital downloads and reprint them. You can also get some thrifted pieces for your heavily trafficked space.
Apart from making physical changes, you should also remember to keep your kitchen clean. A clean and well-maintained kitchen space is expensive looking. Never let dirty dishes pile up; go through the cabinets and remove chipped plates and cracked glassware. You should also remember to always stay on top of expiration dates for food. Treating your kitchen with love is the first step to making it shine. Also, always remember to work with reliable professionals whenever you do some work in the kitchen. Fly-by-night contractors will do more damage than good. From the drain installation service and residential electrician your hire to the cleaning company and ac maintenance services, everyone should be certified and licensed.