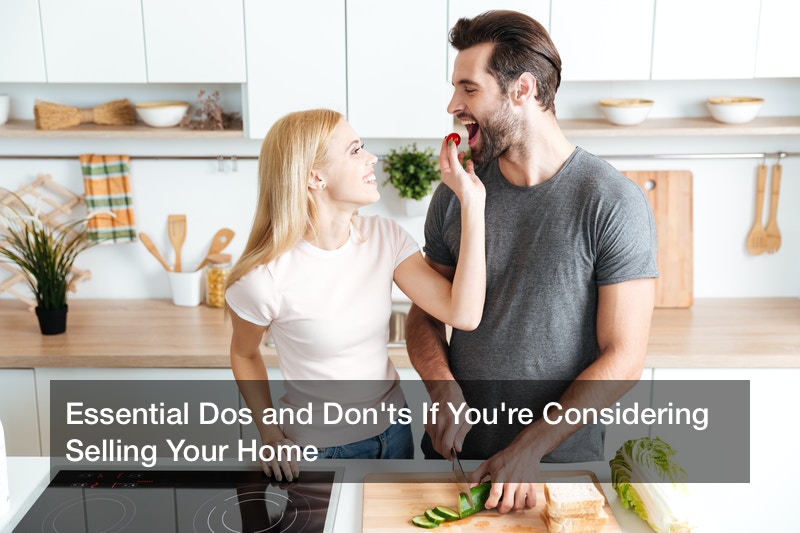 It's often said that home is where the heart is and for good reason. After all, home is where family gatherings take place, where memories are made and where everyday folks often feel the most comfortable. For many people, homes become such a part of their lives that they can't imagine living anywhere else.
But maybe, just maybe your home is starting to show some wear and tear; your family is growing or maybe you just need more space for your stuff. Suddenly you're considering selling your home and looking for the next place to hang your hat.
If you never though you'd one day be considering selling your home, don't fret. Considering selling your home is just that, considering and there's certainly nothing wrong with taking a look at what's out there.
If you are considering selling your home, the big question that may come to mind is 'Why would I sell it anyway? There are many reasons why you might and some of the obvious reasons include:
The value of your home has grown over the last several years
You've seen other homes in your area sell in favor of the sellers and in a timely manner
The sale of your home comes at peak house hunting time
You're looking to trade up
On the flip side, maybe your monthly bills, especially your mortgage, is too much to keep up with
You can afford your payments, but your house is too much for you to maintain, especially if you're getting on in years
But let's say you're past the point of considering selling your home and you've made the decision to sell it. You're probably wondering just what the heck you need to do. By ratcheting up your home's curb appeal, taking time to do some basic maintenance inside your home and getting an experienced real estate agent's help, your home can be off the market in no time and you can focus your attention on buying your next house.
Bumping Up The Curb Appeal
Whether you've got a simple home with a small wooden porch or a more expensive home with wrought iron fencing and customized sheds, nothing can make your home more appealing to a potential buyer than a little bit of outdoor maintenance. No one is suggesting you've got to plant a new row of trees in the front yard or dig a backyard pond, but a little easy maintenance can go a long way.
One of the simplest things you can do is keep your walkways and your yard looking good. If you're trying to sell your home, your property should look its best and not give the impression you're just biding time until the sale. Assuming it's springtime or summertime, pull up the weeds, mow the lawn and maybe even plant a few simple flowers.
You're also going to want to make sure your roof is in good shape and your gutters are clean. These two things can be easy to overlook, but forgetting them can have potentially disastrous consequences for a home down the road. Gutters that overflow can damage a home's foundation and roof leaks can cause all kinds of damage to the point where negligence may require the expertise of a local mold removal service.
One of the most important things you'll want to do where outdoor maintenance is considered is to check your heating and cooling systems. In layman's terms, that means getting your HVAC systems serviced professionally. More than half of yearly utility bills in the average come from heating and cooling, so do the future homeowners a favor and make sure the HVAC system is in working order.
It also can't hurt to wash your windows and touch up your home's paint job. If you've got an older home and several spots where the paint is patchy, putting in a call to painting professionals is a good idea. Again, you're trying to really ramp up the curb appeal of your home and the outside of it may be enough for a potential buyer to form an impression, good or bad.
Don't Forget The Interior
Curb appeal is certainly important if you're trying to sell your home, but so is making sure the inside of your home is just as appealing. Again, you don't have to go to great lengths to revamp your home or transform it with contemporary interior designs, but a little work goes a long way.
Perhaps the biggest thing you can do to improve the interior is to tidy up and make it a lot less cluttered. What does that mean? It means cleaning up tables, countertops, cupboards, closets, windowsills, and anything else that's visible. Curious buyers might just want to explore every nook and cranny of your house, so it's prudent to keep it clean. Viewing a cluttered home could also be somewhat off-putting since they may think there wouldn't be enough for their things.
Touching up your walls with some paint is also a good idea if you're considering selling your home and is touching up any dirty walls or noticeable scuff marks. Curb appeal is important for grabbing a buyer's interest, but ultimately you want them to be able to picture themselves living in your home if you're trying to sell it.
There should be a little bit of handy work involved too—namely checking your home's plumbing system and fixing things like broken handles. What may seem like a small deal to you could be a big deal to a buyer. One small broken cabinet handle could make them wonder what else is broken inside the home.
Get Yourself An Agent
Whether you're considering selling your home or you've outright made the decision that you're going to sell your home, one of the smartest moves you can make is to get hooked up with a real estate agent.
You may think you can sell your home yourself, but you might not get anywhere close to what you're asking for it. In fact, some 2019 estimates showed that as many as 75% of homes sold that year were well below the asking price. It's true that some for-sale-by-owner transactions turn out fine, but there are many that turn out badly and cost homeowners lots of money and time.
So how can a real estate agent help you? One of the best answers is that they're able to make things a lot more convenient in the whole house selling process. Think of a real estate agent as a middle man or liaison between home buyers and sellers. As such, they have experience and knowledge to put deals together on both sides of the coin. If you're selling, an agent can help you set up and keep appointments to show your home.
It's also beneficial to have a real estate agent because they're experienced at negotiating. You agent can also make you aware of any questions or misgivings potential buyers may have and you can act accordingly to make any necessary moves. When it comes to negotiating, your agent can be an invaluable mediator, keeping the peace between buyer and seller while being mindful of the interests of both sides. If a potential buyer is trying to haggle with you on price for example, a real estate agent can talk things over and make sure that you as the seller aren't having to settle for a bad deal.
Another pro of having an experienced real estate agent is that they can hammer out a lot of details that might pro contentious if you tried to draw up a contract yourself such as home title insurance or paying for additional add-ons you've got on your properties such as a shed or similar storage unit. You don't want a potential buyer getting cold feet or thinking that they're getting swindled and a real estate agent can draw up all the necessary contracts so that all conditions are spelled out in black and white.
In some ways, you can think of a real estate agent like a lawyer: they know what they're doing, they're objective and they can't lie in the line of duty. That means your agent is bound by duty and the law to act in your best interest. They build their reputations on repeat business and positive referrals, so you're more likely going to find hard-working, honest agents who will do the best job they can.
Bottom line: real estate agents can be invaluable sources and can help you get the most bang for your buck. You may think that cutting an agent out of the selling process will save money, but you may end up being proven wrong at the end of the day.
Other Obstacles To Avoid
It's understandable if you've moved from considering selling your home to making moves to get it ready for selling. But that doesn't always mean saying goodbye is easy.
It might be difficult, but it's wise to avoid becoming overemotional if you're selling and instead look forward and start thinking of yourself as a seller. Thinking of yourself as a seller will help keep you calm and help you focus on the transaction part of the process.
Another thing you want to avoid (if you can) is selling your home during winter. As previously mentioned, spring and summer are the times of the year when a lot of potential buyers are house hunting. The bottom line is that fewer buyers are looking during the harsh, cold winter months and your home may just end up sitting on the market. What's worse, if it is sold, you may not get as much as you were expecting for it.
If you wait until warmer months to sell your home, another thing you absolutely can't forget is listing photos. With all manner of impressive cell phone cameras these days it's never been easier or faster to snap photos of just about anything to your heart's content. It's important not to skimp on listing photos. Why? You don't want to sell your home short when it's listed with poor photos or too few photos. Use natural light to your advantage and make sure your photos are clear and crisp.
If you're particularly tech-savvy you can do a video tour of your home on your phone or take some 360-degree pictures. When it comes to selling your home, more is definitely better.
When you're selling your home, it's important that you're honest with all parties involved. If you try to cut corners and hide problems such as poor residential siding installation or faulty countertop installation are likely going to be found during a buyer's inspection. By hiding issues or choosing not to fix them or address them, you're potentially hurting the value of your sale and driving away potential buyers.
In Conclusion
Selling your home is one of the most important financial decisions you may ever make in your life. If you're considering selling your home, but you're not sure, take it off the market and perhaps reassess the situation in six months.
But if you're all-in on selling and not just considering selling your home, make sure you do everything necessary to entice potential buyers. Take time to do basic maintenance outside, cleaning gutters, mowing the lawn, and clearing your walkways. Don't forget about the inside of the house either. De-clutter high traffic areas and clean as thoroughly as possible. Be sure to address any issues with your plumbing as well as your heating and cooling systems.
Once you're cleaned to your satisfaction and really amped up your home's curb appeal, get yourself a real estate agent. An experienced and enthusiastic agent can be one of your best friends during the entire selling process. They can help you set a fair price for your property, arrange showings, and answer any questions you have. Ultimately, they are there to work in your best interest and to show your home in its best light, so you can put your faith in the job they'll do for you.
Keywords:
10 steps to prepare your home for sale checklist, 10 steps to selling your home, 2019 real estate, 2019 real estate articles, a guide to selling your home, a quick sale, advertise your house for sale free, advice on buying and selling a house, any houses, are houses selling for asking price, are houses selling in my area, are you selling your home, before selling house, before selling your house, below market value homes for sale, best agent to sell my house, best day to list house for sale, best home selling tips, best place to list home for sale by owner, best real estate to sell your house, best time of year to sell a home.