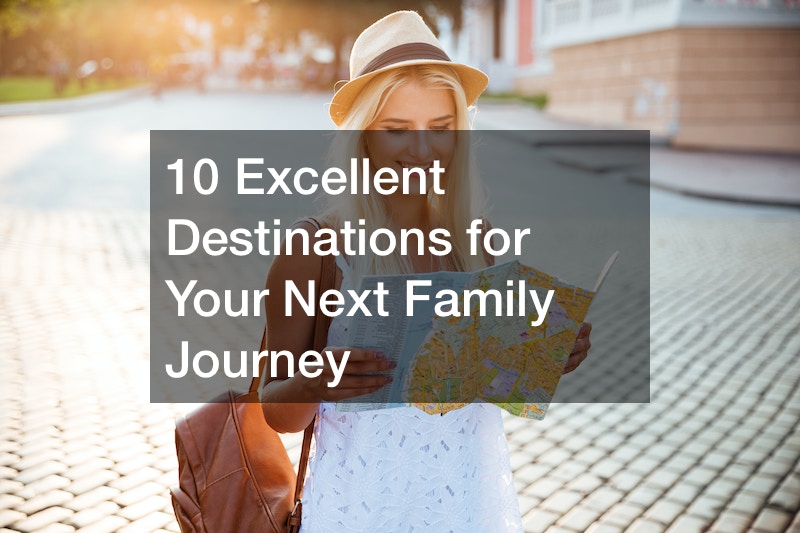 Do you need ideas for your next family journey? Do you want new options for a great family vacation? Here are ten ideas you may want to consider.
1. Walt Disney World – More Than Mickey Mouse
Walt Disney World offers plenty of chances for the little ones to frolic with a larger-than-life Mickey Mouse or teenage girls to dress like Disney princesses. There are so many rides and attractions it often takes two or three days to thoroughly enjoy it.
If you stay at Disney resorts, they'll give each family member a Magic Band. These waterproof plastic bracelets allow each family member to pay for park admission, buy food, and snag a FastPass for skipping lines. Throughout the parks, you'll be surrounded by music, and many attractions are centered around favorite TV shows or movies.
As with any theme park, Walt Disney World has no shortage of delicious food. Try the fresh fruit waffle sandwich in the Magic Kingdom, strawberry tarts in the France section of Epcot, or a raspberry lunch box treat at Hollywood Studios. If your kids overdo sweets and need dental care, there are several emergency dentists near Disney parks.
2. LEGOLAND California – Building Family Fun
Even children who aren't superfans of LEGOS will find something to enjoy at this California theme park. There are over 60 rides to enjoy, and one of its newest areas is the LEGO version of Star Wars: The Force Awakens. If you want to cool off, there's a water park where you and the kids can splash and swim.
When walking through the park, you'll see the activities are directed toward younger kids. However, the imagination of the rides and attractions make this place a perfect spot for a family journey. One popular attraction is the LEGO Junior Driving School for ages 3 to 5, where the children can earn a 'LEGO Driver's License' by learning road safety.
People seeking a job at LEGOLAND will have many benefits – in addition to the fun of directing families through the park. In addition to health and dental insurance, you can invite your family to enjoy a free admission pass. You'll get 30% off merchandise and food inside the park and discounts to local businesses. Jobs at LEGOLAND include the chance to work with rides and attractions at the park, sell food at concession stands, or take pictures of the guests.
3. The Great Smoky Mountains – Colorful Country Adventure
If your family enjoys the great outdoors, the Smoky Mountains may be the place for your next family journey. The Great Smoky Mountains are a part of the Appalachian Mountain range, running along the North Carolina – Tennessee border. The area is a UNESCO World Heritage Area.
The mountains and the various parks in the mountain range will allow your family to discover the beautiful countryside. You can access the trails here with bikes, motorcycles, and horseback. Although you can find many rustic country cabins and modern hotels throughout its trails, many families prefer to be one with the outdoors and pitch a tent in the national park campground. The Smokies are also known for majestic waterfalls, where you can go tubing or just sit back and enjoy the sight of the cascading falls.
If you're a country music fan, you might enjoy the Dolly Parton statue in Sevierville, Tennessee. You may also enjoy the Gatlinburg Space Needle; ride 407 feet up and savor a 360-degree view of the entire Smoky Mountain area. By the trail's end, you may long to bring a touch of rusticity to your home. You may be inspired to contact a team of well installers to build a freshwater well in your backyard.
4. Kings Island – Towering Thrills
This Cincinnati-area theme park has provided fun for families, for the past fifty years. There are traditional rides — including a wooden roller coaster. There's also a water park and a special place for the littlest family members called Camp Snoopy.
In the autumn, your family journey will encounter its share of scares at Hallowe'en Haunt. You'll find scary creatures popping out from random corners as you ride your favorite rides. You'll hear eerie music, and the park will be decorated with a spooky theme. There are also fright-themed snacks available.
During the winter months, guests can enjoy Winterfest. There are sparkling lights down the park's roads and a holiday theme abound that's as festive as the season. Ice skaters enjoy the pond and gaze up at the park's version of the Eiffel Tower — as it is transformed into a holiday tree. Enjoy the catering services at a banquet hall inside the park, if you have a family reunion or corporate event.
5. The Grand Canyon – Behold its Wonders
Pictures of the Grand Canyon don't do it justice. When you look over its ridge to see the Colorado River snaking through the mile-deep Canyon, it's hard to be anything but mesmerized. The colors of the Canyon's rocks range from dark brown to mustard yellow, with golden shrubs dotting its ridges.
If you have limited time to visit, the Grand Canyon National Park's South Rim is the most-visited place. Another choice to see a large stretch of the Canyon in a short period is to take the Grand Canyon railway ride. In just three hours, you can ride in its comfortable train cars and see many of the most awe-inspiring sights. Experienced hikers often join teams of hikers who hike downward to the Canyon's floor.
When reaching the bottom of the Canyon, hikers are advised to camp overnight. Take your family journey further, and try white water rafting down the Colorado River. Even if your family is experienced in hiking, the Grand Canyon is a more extreme experience, and, unfortunately, deaths have occurred there from people bending too far over its rim. If you or a family member gets hurt during your trip, contact an accident attorney to receive compensation.
6. Universal Studios – Silver Screen Adventures
If you bring your family to Orlando, Florida, to visit the Disney parks, it's worth visiting Universal Studios. When you add Universal to your family journey, the family will enjoy movie adventures suitable for all ages. Younger children will enjoy Woody Woodpecker's KidZone. Older children will find magic adventures at the Wizarding World of Harry Potter, while you can all do karaoke at the Hard Rock Café.
Your inner child can have fun dancing with minions while Gru and his adopted daughters guide you through a tour of his laboratory. As for the Harry Potter fans, you'll be enchanted when you turn the corner and see this attraction's fire-breathing dragon. If those attractions leave you wanting more, the park's Islands of Adventure section will take you on a Jurassic Park River adventure.
Many theme parks use animatronics as part of some attractions. Universal Studios is working to update the automated system technology that initiates the actions of some animatronic characters. These newest characters will be able to sense the approach of a guest – and instantly engage in conversation or animatronic actions.
7. Yellowstone National Park – Old Faithful Fun
Another adventure in exploring nature will begin when you arrive at Yellowstone Park. Most Yellowstone visitors intend to see Old Faithful, the world's most famous geyser. This awe-inspiring plume of white water erupts every one to two hours.
A boardwalk surrounds the geyser, where you can sit and enjoy its inspiring eruption. At the nearby ranger station, there's a sign that predicts the next expected eruption. If you want to add another wonder in water to your family journey, you should also go to the Grand Prismatic Spring. This hot spring is known for its amazing overlook, which provides the best view of its stunning colors.
You can rent an RV for a trip to Yellowstone. Many campgrounds are within and near Yellowstone, and all welcome RVs. If you own an RV, ensure your RV insurance is current. By staying at one of its campgrounds, you'll see why this is one of the most popular National Parks.
8. The Outer Banks – Sparkling Seaside
One of North Carolina's many excellent vacation areas is known as the Outer Banks. The Outer Banks is a series of islands off the coast of North Carolina. The stunning beauty of these islands is a popular vacation destination. Many enjoy its beaches, while others appreciate its opportunities for fishing, hiking, golfing, or exploring its historical landmarks.
If you have a drama lover in your family, travel to the Lost Colony of Roanoke for their annual historical musical. This musical production tells the story of Virginia Dare, the first child born in colonial America. It will be a memory from your family journey that will be hard to forget.
You'll see the pageantry of Queen Anne's court and learn of America's oldest mystery. Many tourists come in October to enjoy the ghostly sights of the Outer Banks Ghost Tour. Your family can enjoy a guided tour as a specter guides you, with a lantern, through the sandy soil of downtown Manteo. You'll be provided with a 'ghost detector' to enjoy the 'spookiest beach in North Carolina.'
9. Myrtle Beach – Waves of Enjoyment
Myrtle Beach is in South Carolina, and its sparkling waters are an extension of the same Atlantic Ocean where the Outer Banks are located. The differences your family will find in Myrtle Beach include the town's many entertainment venues next to its stunning beaches. The Boardwalk adjoining Myrtle Beach allows many visitors to enjoy its beautiful waves. Many of Myrtle Beach's visitors prefer to ride by bicycle, and there are bicycle rentals available near the entrance to the Boardwalk.
In Myrtle Beach, you may need help to choose between its many attractions. You'll have miles of beaches to swim, and its adventures extend to a pirate adventure on Blackbeard's Pirate Cruise. You and your children can dress like a pirate, and the captain will guide them as they dive to find 'buried treasure.' Your family journey can include inland adventures in ziplining at Radical Ropes, where your older children can also zipline.
You can enjoy a great day at Family Kingdom — an amusement park in the city. One of its most popular rides is the Sky Wheel — a Ferris wheel 200 feet high where you can observe the whole city as you enjoy the ride. After a day in Myrtle Beach, you'll be ready for a meal at a local restaurant. Enjoy an all-you-can-eat seafood buffet at Original Benjamin's Calabash Seafood or a burger at the River City Café.
10. The Rock & Roll Hall of Fame – Musical Memories
When your family visits Cleveland, Ohio, they'll likely discover why its theme song is 'Cleveland Rocks!' This folk song by Ian Hunter was written to counteract the somewhat negative opinion about Cleveland. When you include Cleveland on your family journey, they'll find attractions far exceeding its downtown district. While Lake Erie crashes its waves along Cleveland's coastline, Cleveland's Metroparks systems provide endless opportunities for hiking and exploring its many suburbs.
One of Cleveland's most popular attractions is the Rock and Roll Hall of Fame. Music lovers of any genre will find something there to enjoy. Visitors can learn about the history of rock and roll and all the subcategories of this musical genre. There are exhibits featuring many iconic stars and displays of some of the artists' most famous outfits (such as Michael Jackson's glove and Elton John's sunglasses).
There are music examples in each of the halls dedicated to different rock genres. Seasonal exhibits honor one or more rock types, and the annual gala is held for each year's inductions into the Hall of Fame. Some of the inductees will make the induction ceremony into a party and employ a catering company to celebrate the activities.
As you can see, adventures await you across the U.S.A. When you plan your next family journey, you'll have many choices. No matter what type of activity you're looking for, your family is sure to have fun if you pick one of the above destinations.