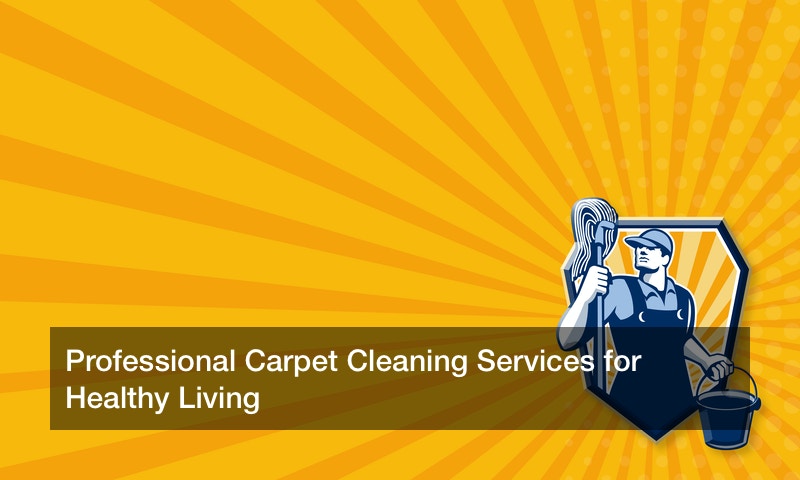 Carpets are a great addition to your home decor and can help make the room and floor warmer to your bare feet. However, a dirty carpet or rug is literally a ticking time bomb on your floor waiting to 'explode' with bacteria and viruses — Not to mention the unpleasant odors it gives out. They are perhaps the only accessory in the house that attracts and collects the most dirt, dust, and stains, which is why it needs to be regularly cleaned by a professional carpet cleaner.
While carpet cleaning is a DIY task you can do at home, there are is actually a lot that goes into this process to ensure the carpet is not only cleaning but odor-free. And this requires particular skills and proper equipment only possessed by professional carpet cleaning companies. If you've been cleaning yours at home and wondering if it is worth it to try these experts, here are some of the benefits of hiring experienced carpet cleaners for your consideration.
1. Proper Cleaning Equipment and Detergents
As previously mentioned, getting your carpet completely clean with no odors requires the use of proper cleaning equipment and detergents that are effective in removing stubborn dirt and pet stains. Regular brush and vacuum cleaner will only so so much in removing such stains, and will often require aggressive brushing strokes, which can damage the fabrics on carpets.
Professional carpet cleaning services also use quality and approved carpet detergents that offer great outcomes on your carpet as well as extending its life. Advance cleaning detergents are designed to fight stubborn stains and strengthen the fabrics on the carpet. Most carpet manufacturers will advise on the right detergents to use for your carpets and which ones to avoid. Proper detergents will ensure your carper is sparkling cleaning, smelling fresh and improved lifespan.
2. Experience Carpet Cleaning Services
Even with the most sophisticated cleaning equipment and detergents, the final outcome will probably not be the same if you clean it yourself, this is where the experience of a professional carpet cleaner comes in. Since they've cleaned many carpets, their indispensable experience allows them to clean to perfection removing stubborn stains and restoring it to its glory. However your carpet looks like it can be professionally cleaned for better results.
3. Advanced Cleaning Technology
Another important benefit of hiring professional cleaners is that your carpet gets to be cleaned using the current technology. For instance, dry foam carpet cleaning is a new cleaning method that not only ensures thorough cleaning but there is zero drying time needed. This method works by applying a biodegradable powder cleaner to the carpet which is then pushed down deep into the fibers using a motorized machine and brush. The powder then absorbs dirt before being removed, leaving the carpet sparkling clean and prolong life.
4. Offer Free Professional Advice and Carpet Care Tips
In addition to having your carpet cleaned to perfection, most professional carpet cleaners will offer free advice and tips on taking care of your carpet. This will help you to maintain the cleanliness of your carpet and reduce the number of times it has to be cleaned for an improved lifespan.
Also, they'll guide you on how to do light cleaning so you can minimize the buildup of dirt and dust and reduce unpleasant odor. You end up with a clean carpet and a wealth of knowledge on how to take care of it yourself.
5. Focus on Other Duties
Cleaning a carpet takes time and energy. And though you might have the energy to do it, time can be a problem if you are extremely busy. That's why you need to consider professional cleaners so you can focus on the most important duties of running your house. Hiring an expert cleaner assures you of quality and timely service.
These are the main advantages of hiring a professional carpet cleaner and you can see why it' such a good idea not just for the clean home but also for the health of you and your family. Professional service guarantees you a clean and smelling-fresh carpet with an extend life.