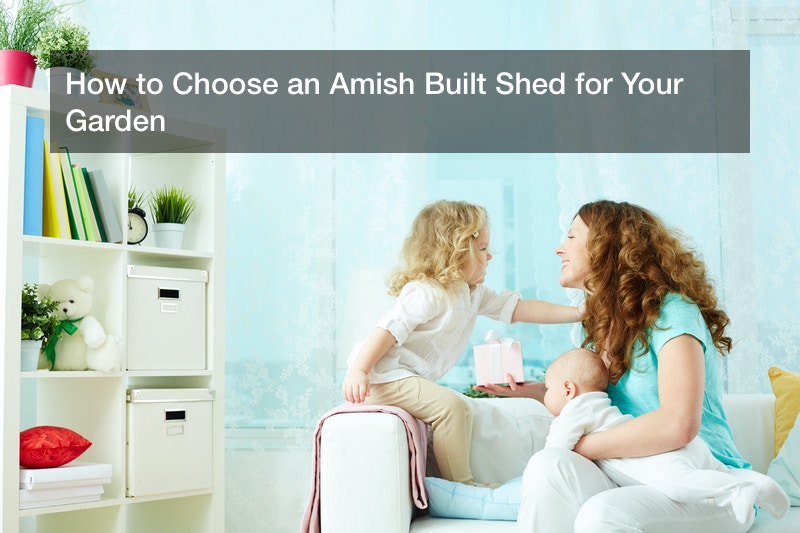 Amish furniture has long been prized for its simple design and quality workmanship. Many homeowners will be surprised to learn that the Amish also make outdoor furniture, including sheds, gazebos, pergolas, and playground equipment. And if you're thinking of homesteading, you can get Amish quality chicken coops and rabbit hutches. Even if you don't live in or near Amish country, you can order structures like sheds online.
Why choose Amish outdoor furniture?
Amish furniture has become known for its quality and simple design. Tables, dressers, beds, cradles etc. become family heirlooms, and because of the quality of the workmanship, they can be passed on for generations. Amish furniture first gained the attention of American folk art enthusiasts in the 1920s. Homeowners will be pleased to learn that they can get Amish made outdoor furniture for their yards as well, and that this furniture is made with the same quality of workmanship.
All Amish furniture is hand-made, which makes each piece unique. It's also ecofriendly and sturdy enough to last for years. Amish outdoor furniture is made from oak, cherry, hickory, walnut, or maple, and takes its coloring from the natural colors of these woods. When choosing an outdoor structure, you can browse different styles on the internet and even order sheds online. There are some things to keep in mind when choosing an Amish built shed.
Choosing your shed or other outdoor building
First of all, because Amish furniture is handmade to order, you should expect to wait for about 12 to 16 weeks from the time you place your order to delivery. It takes about 8 weeks to make a piece of outdoor furniture. You can order most structures and sheds online. You will have a choice of color, trim, size and hardware.
When choosing a size for ordering sheds online, keep your future needs in mind. Most people discover that they need more storage than they thought, or that they acquire more tools and outdoor furniture that needs to be stored in the winter. Many people feel after making a purchase that they should have bought a bigger shed, and almost no one ever feels the opposite, that they needed a smaller shed.
Preparing for delivery of your shed
Once you've ordered your pergola or sheds online, the Amish furniture maker will send out a professional to do a site inspection, so that the new structure will fit neatly into its final location. To prepare for delivery, you will have to ensure that the site is level and clean. The simplest kind of foundation is gravel. Depending on the terrain and local regulations, you may need to install patio blocks, sonic tubes or a concrete foundation.
The actual delivery is the fun part, when all you have to do is to watch them set your new shed exactly on the foundation you have prepared for it. Your new shed will add beauty, value and utility to your property for many, many years.
Amish built outdoor furniture has the same quality and design that have made Amish furniture so popular with homeowners and designers. Once you have chosen and ordered your sheds online, you need to prepare the site for delivery by putting down a foundation. Once the new shed is installed, you have a sturdy, beautifully handcrafted piece of outdoor furniture to store your garden tools, mower, outdoor furniture and much else.